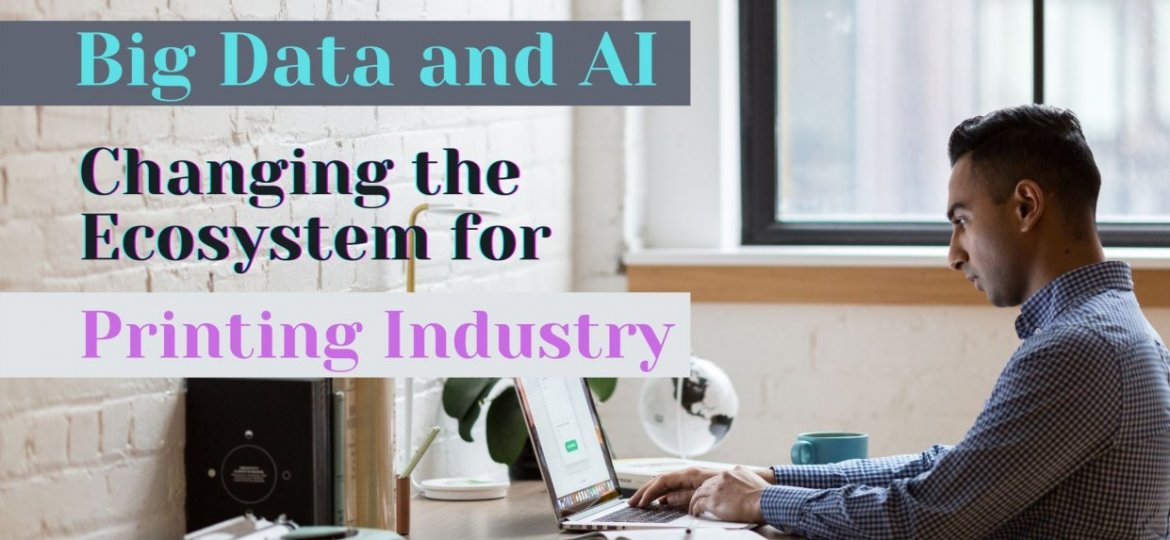 Involvement of Big Data and Artificial Intelligence In The Print Business
No doubt, it's the age of Big Data and Artificial Intelligence (AI)!!!
Big Data, the head-spinning extensive amount of data, is transferred and stored every day now worldwide. Documents to designs, all types of data become a matter of security concern when scanned, stored, and emailed as per requirement.
Besides, AI is replacing human involvement in the business slowly. The use of Artificial Intelligence (AI) is now –
More reliable to the business owners
24/7 365 days, supporting capability
In some cases, like customer service, it can replace human involvement
It is cost-effective
Works best against cyber-attacks.
Big Data and AI both are playing vital roles in the printing industry. Let's take a look at the discussion below how Big data and AI changing the ecosystem of the printing businesses:
Massive Changes Big Data Has Brought In The Printing Industry
Big Data is the collection of an extensive amount of valuable information from multiple sources.
People pay bills in the bank and go to gyms every day. Credit card records, social media activities, shopping patterns using computers and smartphone apps, CCTV camera videos, satellite footages, etc., are valuable information. The system uses cookies or tracking software to collect the data.
The collected data helps make human life easier and better. For instance, a fitness app tracking every step someone takes while running on the road or park every day. The collected data from different sources turn into a collective healthy life behavioral pattern information. It is sold to the urban planners to confirm whether a park or bike lane is required to be constructed in certain areas for health-conscious people or not.
In the printing businesses, using Big Data, you could recognize there are unimaginable possibilities in it.
#1 Predictive Maintenance
Printing businesses are now enabling automation and Big Data analytics to obtain data-driven insights to bring actual improvement to the production.
For instance, manufacturers are now using cheap sensors like wireless devices combined with big data analytics. It helps mine the valuable information to acquire actionable insights or predictive maintenance capability. It enables the option to predict machine health and any possible equipment failure or damage that might occur sooner or later.
Predictive maintenance helps manufacturers upgrade the system performance as per need. Also, it prevents any equipment damage or product waste for better and more efficient production.
#2 Big Data Reduces The Printing Costs
Printing businesses like Web-to-Print, Print-on-Demand, Sublimation, etc., have notable places of expense. Such as – recording communication, customer purchase behavior patterns, and external easily trackable transactions.
Every operation generates a tremendous amount of information data. There are many internal and unnoticeable costs involved in the process as well.
Big Data offers a better understanding of the customers and their preferences and improves internal operations, which helps reorganize and restructure business strategies to reduce expenses. Analyzing all potential data as part of an efficient drive in a printing business can boost profit by deducting unnecessary costs in the operation and manufacturing process.
Setting up a Big Data collection program for better insight – Every business has its data store. Through the proper utilization of Big Data, it's possible to centralize all the data into one searchable database to create patterns and have actionable insights. With the help of Big Data analytics, a printing business can build a procedure to track down available data centering print workflow. Also, the inclusion of advanced intelligence tools like AI can provide profitable print management solutions.
Importance of decision making – The worst part of Big Data analytics is that it requires the business to act upon the insights immediately. Otherwise, reducing pricing and costs remains a dream. The time invested in technologies turns into a complete failure. When you find a potential cost-saving area, you must take the necessary steps as soon as possible. The insight of collected information and metrics helps you make it possible. If delayed, the business keeps losing money consistently.
#3 Creates A Supply Chain That Enables Real-time Monitoring
Combining Big Data analytics and IIoT creates extraordinary opportunities for printing businesses to obtain real-time supply chain information. Material flow, product manufacturing, production time cycle, business correlations overall everything is observable and accessible using the supply chain data.
Real-time monitoring also assists in finding ongoing or possible problems beforehand and minimizes the costs associated, both with the production and manufacturing process.
Every year, defective production processes bring disastrous revenue loss for manufacturers. Using supply chain information or real-time data, Big Data is helping build a quality management system to identify errors. It also helps resolve problems as soon as they occur.
Nowadays, the printing industry, investing in Big Data to obtain predictive analytics to calculate and increase their ROI – return on investment. The quality management developed by Big Data analytics can tone down the product, assembly, shipping, and overall managing costs.
#4 Big Data and 3D Printing
3D printing is the method of printing three-dimensional solid objects using digital files. It is more like digital pottery. 3D printing has shown great opportunities for the printing industries like – toys, medical equipment such as organ replicas, prosthetic limbs for amputees, fake skins for burn victims, etc.
3D printing is a technology with extensive data. Combining Big Data, this specific print industry needs continuous up-gradation to walk with technological advancements every year. There can be two ways these two high-end technologies working together can prove a perfect fit for each other.
Data Visualization – To better understand products and business growth, visual presentation tools like info-graphs, charts, datasets, etc., are often required. The use of visualization tools is seen almost in all businesses worldwide. Using 3D printing technology, charts or graphs, project drawings, etc., can be printed in three-dimensional form. It helps companies to understand in-depth information in a more realistic way through three-dimensional projection. The physical evidence is more understandable than theories on paper. 3D printing is a game-changer in the printing business.
Manufacturing – 3D printing is a revolutionary platform in the modern printing and manufacturing industry. Big Data in the quality control of the system has increased the capabilities of 3D printing. Take 3D manufacturing of sensitive medical surgery products or car engines as examples. There are high-risk factors involved that a small error or mistake might lead to a deadly road accident or cause health issues. Big Data provides in-depth analysis and close observation of the printing process. It helps detect any possible error in each product and resolves it quickly. This way, any damage is likely to prevent it from occurring beforehand. Overall, Big Data works as an inspection for error-free production.
Artificial Intelligence (AI) Is Changing The Printing Businesses – But How?
The mainstream printing industry is intimately involved with advanced technology already. The implementation of Artificial Intelligence (AI) has already begun. The involvement of AI has the potential to open the door to hundreds of remunerative revenue streams. Big Data combining AI analytics has improved efficiency in the end-to-end printing business. It has increased production through generating print jobs and optimization of machines or devices.
#1 Digital Automation
The dependency on paper works has already come to an end. Executing tasks manually like data entry, data or information validation, Quality Assurance – QA, data migration, and many other sensitive operations is time-consuming.
In the competitive printing industry, digital automation is the first and foremost requirement. To automate the whole process,  RPA (Robotic process automation) comes into action. Along with AI, RPA software creates a virtual workforce that continues 24 hours error-free and replaces human involvement.
The integration of AI and RPA is proven a powerful combination. It uses high-end algorithms to collect and organize complex data. The collective data then helps educate the system to deal with any unfortunate and harmful incident immediately.
#2 Predictive Maintenance
Predictive maintenance brings efficiency to the business. Printing devices with sensor technology assist in collecting data and analyze further to predict possible loopholes in the system and prevent upcoming errors. But controlling the voluminous data is not possible without AI integrated with the system.
Integration of AI in the system allows advanced algorithms to collect real-time data.
Based on the collected data, businesses can generate and implement new methods to gather and analyze more data to obtain insights and make the production cost-effective.
#3 Real-Time Alert For Any Unexpected Mishap
Imagine you are printing order of 500 copies. Does a question arise that what are the possible errors you might encounter while printing non-stop?
The software might fail amidst the printing process, which is normal and happens all the time.
Distorted or defective copies
Inaccurate number of copies
These problems can cause financial damage easily, and you may lose your business image. There is countless software available in the market especially programmed for different operating systems and print machines to avoid unexpected accidents. Besides, AI gives you real-time alerts so that you can identify and tackle any issue beforehand.
#4 Product Customization Industry
Web-to-print, POD, or any printing business where product customization is involved, can get countless benefits by integrating AI in the system. Integration of product designers or enabling connected printers to run multiple production units simultaneously brings printing efficiency and decreases human error.
Print shops are now implementing different printing methods like Sublimation, DTG, Computer-aided Design (CAD), Cut Printing, Heat Press Printing, Screen Printing, etc., after AI involvement in their businesses. There is now one centralized system with less physical involvement. Thus, printing businesses are developing faster and efficiently.
#5 Handling Security Threats
The number of print shops is increasing day by day. At the same time, it is empowering users to link up printers with various devices. Besides, the dependence on networking through the internet makes cyber-attackers a significant threat in the printing industry. It is difficult to track down cyber-attacks when dealing with numerous business clients.
According to many internet experts, there's a high probability that new-gen malware will use AI to breach security like a real human hacker. It will be untraceable in the future.
Network printers work entirely dependent on the internet. So now, a new level of security is required. With the integration of AI, it can defend or self-protect the system from any cyber threat.
With both beneficial and defensive advancements, AI assists businesses by providing real-time insight to detect threats and any abnormality in the system.
#6 Mobile Printing
Installing drivers for every device connected to the printers is quite painful and time-consuming. Also, it slows down production. Printing shops connect all the devices like mobile and computer to operate through the integration of AI in the system. AI makes it easier to provide a simple configuration to the smartphone for users to print from their devices.
Here is how AI has accelerated the Web-to-Print industry:
For a cost-effective production, web-to-print software generates quick algorithms to provide the exact layouts.
AI helps gather customer behavioral data. This collective data is backing businesses to send personalized emails, messages, designs, or catalogs to each individual as per preferences.
AI algorithms minimize human error in the business. Web-based businesses are now capable of printing several products simultaneously and error-free.
Sensor-activated printers synchronized with AI algorithms can easily acquire flawless printing results.
Centralization of information is helping web-based product customization businesses to reach out to customers with a wide range of products. Thus, printing businesses are now growing faster than ever before.
Summing It Up
Big Data and AI collectively have become powerful tools. The combining workforce has provided revolutionary technological advancements and invaluable insight into the print industry. Big Data is the tool for mining data. On the other hand, Artificial intelligence (AI) integrated with Big Data analytics provides print industry opportunities to implement predictive maintenance, digital automation, high-end cyber-security, product customization, and many other valuable options.
Thus, from print operations to product manufacturing, the entire system has become error-free. Products are now flawless and authentic. Customer satisfaction has risen, and the profit margin escalated surprisingly in the past few years.