PRODUCT PERSONALIZER SOFTWARE
WEB-TO-PRINT DESIGN TOOL FOR PRINTERS
Ultimate Product configurator tool for Screen Printers, Digital Printers, Promotional Product Distributors, Award Companies, Apparel/Team Jersey Maker/Printers, Embroidery Companies. Ready to go with Shopify and BigCommerce.

Using Shopify as eCommerce Platform?
Start selling customized products on Shopify today!

Inkybay is a web-based product personalization tool for print shop and e-commerce stores that automate order processing, increases revenue, customer trust, reduce production time and business efficiency. Our advanced product customizer allows you to sell personalized products in your existing online store and automate the processing of custom orders.
We introduce outstanding customization experiences for your customers by allowing them to create and visualize their own, perfect products with Inkybay Web-to-Print Solution. Inkybay helps eCommerce print shops to sell any type of customized or configurable products like Apparels/T-shirts, team jerseys, mugs, laptop/mobile cases, business cards, awards, shoes, signs, stickers or any other items you can imagine. The designer software works with any kind of printing methods – Screen Print, DTG (Direct to Garment), Sublimation, Embroidery, Flex printing, Flock printing, Vinyl Printing, Engraving, and more. Easy integration with e-commerce platforms (Magento, Shopify, BigCommerce, Opencart, Prestashop, Woocommerce, Virtuemart) as an extension or plugin.
Best Design Tool for print shops
All-in-one web2print software solution to personalize t-shirt/apparels, Laptop and mobile case, business card, car sticker, sports mat, shoe, door/window, bicycle or any type of configurable product right on your website to provide your customer best customization experience with real-time visualization.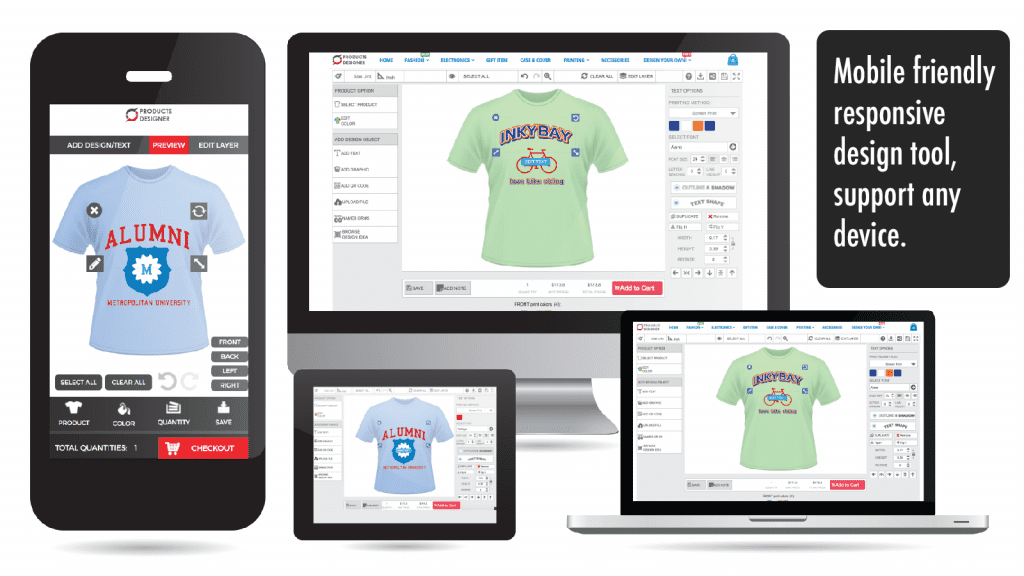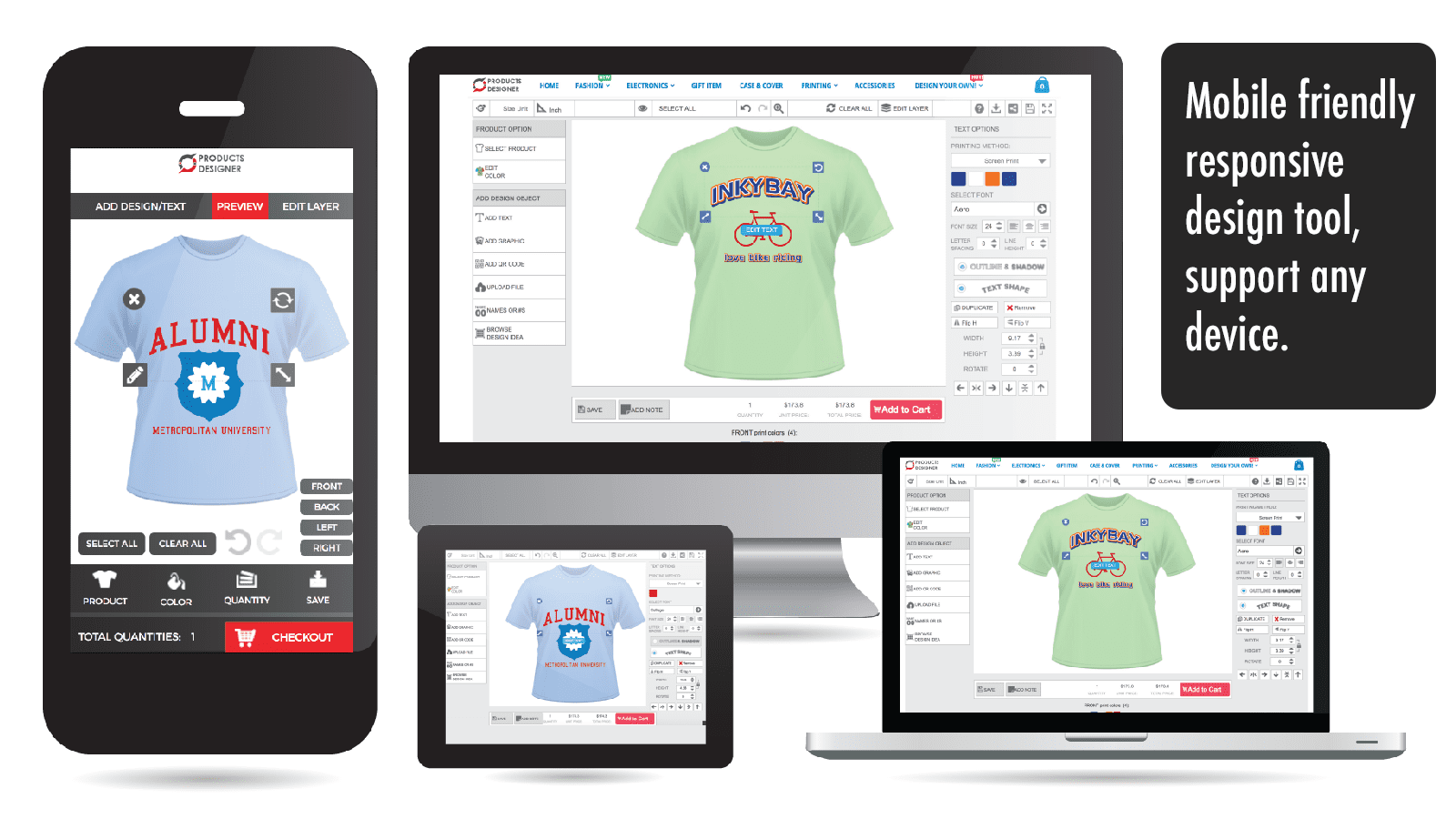 Your business has a lot to offer… and your website should reflect this fact! Custom product design software turns your business into a flexible online service. It helps you to cut costs, save time, eliminate waste by producing on demand, and build stronger customer loyalty.
Connect with us today to gain access to everything you need — We're standing by to help you implement the customized modifications and technical website improvements to turn your printing business into an efficient online operation.
Powerful Backend for product customization
Manage everything from your own eCommerce shopping cart backend admin with easy options. Manage configurable products, per-decorated design idea/templates, your own fonts, add unlimited artwork, printing methods, multiple pricing setups and lot more.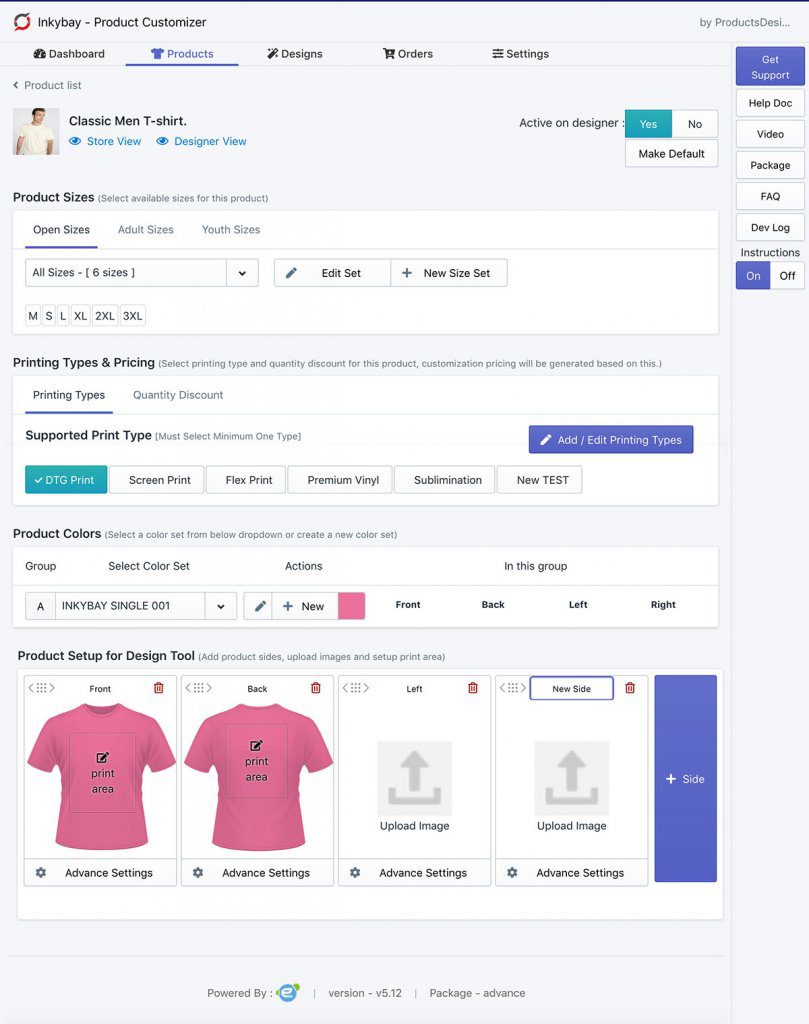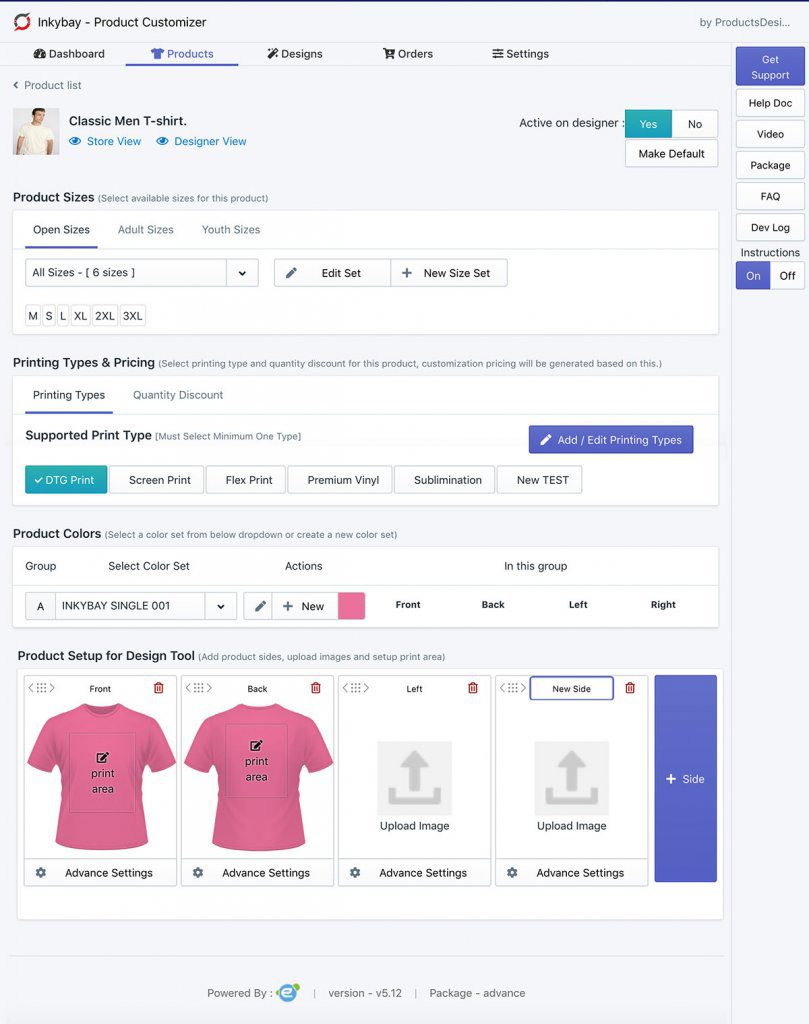 LOOKING FOR A HIGHLY CONFIGURABLE PRODUCT PERSONALIZATION TOOL FOR YOUR

NEXT PROJECT?
Product Designer Software Clients
Check out real examples of Custom Products Designer and online t-shirt designer software.

Using Shopify?
Get 21 Days Free Trial
Ready to take your printing or product customization business
to the next level?
Start your 21 days free trial now on Shopify!
Frequently Asked Questions