PRODUCT CUSTOMIZER SOFTWARE
WEB-TO-PRINT DESIGN TOOL FOR PRINTERS
Ultimate Product configurator tool for Screen Printers, Digital Printers, Promotional Product Distributors, Award Companies, Apparel/Team Jersey Maker/Printers, Embroidery Companies. Ready to go with Magento, Shopify, Woocommerce, Prestashop, VirtueMart, and others.

Using Shopify as eCommerce Platform?
Start selling customized products on Shopify today!

Inkybay is a web based product personalization tool for print shop and e-commerce stores that automate order processing, increases revenue, customer trust, reduce production time and business efficiency. Our advanced product customizer allows you to sell personalized products in your existing online store and automate the processing of custom orders.
We introduce outstanding customization experiences for your customers by allowing them to create and visualize their own, perfect products with Inkybay Web-to-Print Solution. Inkybay helps eCommerce print shops to sell any type of customized or configurable products like Apparels/T-shirts, team jerseys, mugs, laptop/mobile cases, business cards, awards, shoes, signs, stickers or any other items you can imagine. The designer software works with any kind of printing methods – Screen Print, DTG (Direct to Garment), Sublimation, Embroidery, Flex printing, Flock printing, Vinyl printing, Engraving, and more. Easy integration with e-commerce platforms (Magento, Shopify, Opencart, Prestashop, Woocommerce, Virtuemart) as an extension or plugin.
Best Design Tool for print shops
All-in-one web2print software solution to personalize t-shirt/apparels, Laptop and mobile case, business card, car sticker, sports mat, shoe, door/window, bicycle or any type of configurable product right on your website to provide your customer best customization experience with real-time visualization.
Your business has a lot to offer… and your website should reflect this fact! Custom product design software turns your business into a flexible online service. It helps you to cut costs, save time, eliminate waste by producing on demand, and build stronger customer loyalty.
Connect with us today to gain access to everything you need — We're standing by to help you implement the customized modifications and technical website improvements to turn your printing business into an efficient online operation.
Powerful Backend for product customization
Manage everything from your own eCommerce shopping cart backend admin with easy options. Manage configurable products, per-decorated design idea/templates, your own fonts, add unlimited artwork, printing methods, multiple pricing setups and lot more.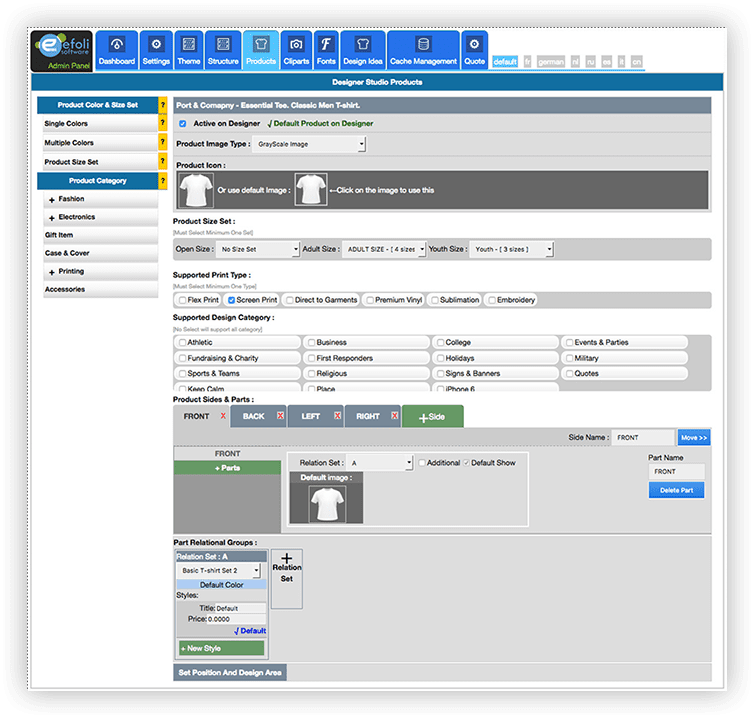 LOOKING FOR A HIGHLY CONFIGURABLE PRODUCT PERSONALIZATION TOOL FOR YOUR

NEXT PROJECT?
Product Designer Software Clients
Check out real examples of Custom Products Designer and online t-shirt designer software.
What Clients Says About Us

Teri Hill
Dollamur.com
Digital Marketing Manager
I have worked with Products Designer on two projects now and highly recommend. The first project was a customization of their original Products Designer software to fit our industry. The second was a fully customized Designer for a separate product line. The team at Products Designer was extremely easy to work with and communication was outstanding at every phase of the project. Ongoing support has also been highly responsive. I had very high and specific expectations going into each project, and they met and exceeded for each project. I would not hesitate to work with them again!

Loïc VOISINE
Byrsp.fr
CEO
L'outil est très complet et fonctionne parfaitement.
Concernant le support, ils sont très réactifs et efficaces.
Une équipe dynamique très compétente qui m'a beaucoup aidé !
Un grand merci
Leon
Pro Socks
Awesome customer service, much better user experience than similar apps out there.
James zheng
Pitaka
This App solved my requirements. In the beginning, it's a little confusing to install by me, but thank for the excellent customer support, it is no problem. It works very well and provides an SVG format of the design by customers that make the engrave processing very easy and save our lots of time.

Overall, excellent app and fantastic customer support! The develop team responsive to my specific needs and resolve any issues, even create a theme for us, so surprise!
Thank you!
Raymond Kazmierczak
Chicago Sign FX
This App is awesome, you can tailor the program to suite your needs for almost graphics/product combination. When you start to realize the depth the program has it can be daunting, however, it works in your favor. You can curtail the program in so many ways. In addition, the support from Rashed is truly top notch, either chat with him or email and guarantee you'll receive a response and get any problem you have solved!
Leon Wong
CustomizeEliteSocks.com
I worked with many developers before, you guys are good. It's not only the designing tool that makes a company better, it's the customer service after.
Russell McCabe
Bupppy.com
This is a very powerful Product Designer and the support has been outstanding even though the time difference, including LIVE SUPPORT chat. This app is actively developed and I'm looking forward to new and exciting features. This is a great addition to Bupppy.com & DigitalBread.com. Thank you InkyBay team
Joe
Tivoli Promotions LLC
I am new to Product Customizer but I am very pleased with it. And I can't sing enough praise for their customer support!
I don't recall ever giving a five-star review for any product with anyone in the past. Unfortunately today most company's idea of customer support is lip service and an outdated, time-wasting online FAQs or forums.
Not Inky Bay. Whenever I need help they are there for me.
I am still learning their product and have a lot more to learn but if their product is anything like Rashed of customer support, I will be a customer for a very long time.
Using Shopify?
Get 14 Days Free Trial
Ready to take your printing or product customization business
to the next level?
Start your 14 days free trial now on Shopify!
Frequently Asked Questions