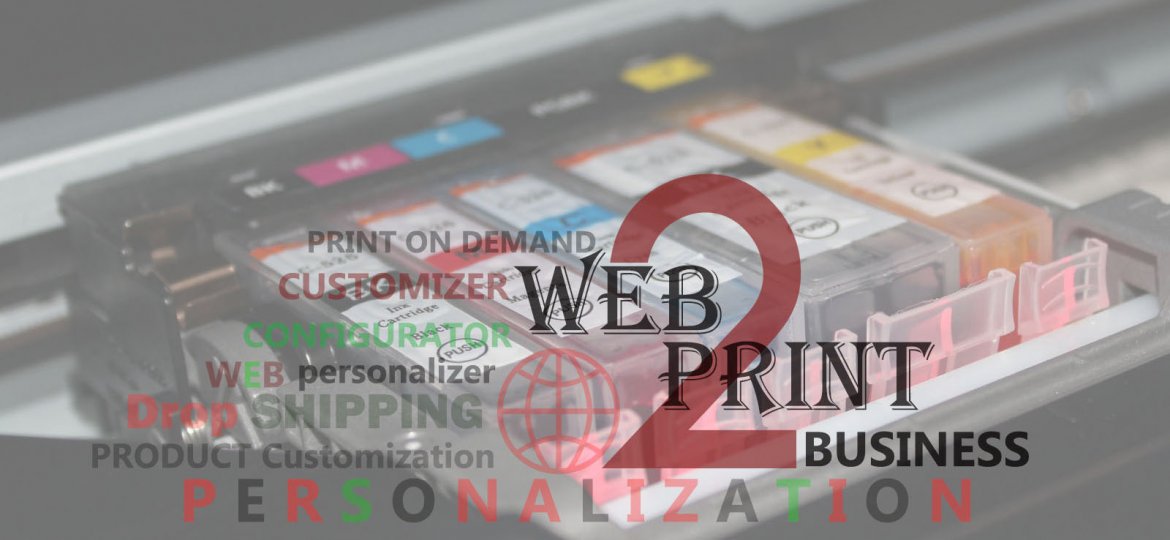 Web-to-Print – A New Age of Ecommerce Print Industry
To survive the die-hard competition of the present eCommerce print industry, businesses are now offering digital storefront. Customers are now capable of ordering a product online or even customize it based on their preferences. And web-to-print technology has become an exceptional solution for them, no doubt.
Web-to-print helps printers with faster and efficient production as well as enhances customer experience level and satisfaction. It's more than online shopping for customers and print solutions for businesses. Before you know why web-to-print is essential for your printing business and your customers, it's necessary to understand what it is.
What is web-to-print?
There are many misconceptions regarding the idea of web-to-print. For some people, it's just merely transferring printing data to the print companies as an alternative to email or data transfer services. Some also think that it's just ordering print products over the internet. These are just some of the aspects of web-to-print technology, no doubt, but not complete at all.
Web-to-Print is web-based print management or solution system for printing businesses all around the world. It allows the internet generation to order a product online through the system that generates a print-ready file that directly goes to the print companies for production.
In a more simplified way, web-to-print is the technology that uses internet service for commercial printing. It offers high-quality print-ready data for consistent print jobs for your eCommerce print service. It's also known as W2P, Web2Print, Print eCommerce, or Remote publishing.
W2P provides your customers with a product ordering web portal where they can choose their desired products, design or personalize them, and order. A print file is produced that goes to the printer for production.
Why Is Web-to-print Solution Important & How It Benefits Your Business?
There are many ways a successful integration of a W2P solution can benefit your business. It provides easy and efficient order processing for your customers and prospects. Let's get to why how Web2Print is an excellent solution and how it benefits your business:
#1 Maintain Consistency of Your Brand
The web-to-Print solution enables design templates for your print business. You can easily set up your fixed brand template for each of your products. It remains with the printed product, even after a customer has personalized it according to his or her preferences. You can create templates that fit all your products' designs and also keep some information static for all the products. This way, your print business brand will be able to carry out the consistency.
#2 Centralize You Purchasing, Shipping, and Billing Process
With web-to-print technology, you can centralize your purchasing, shipping, and billing process. Purchase your product or materials, pick your shipping company that meets all your requirements, and receive your invoices all at the same time.
Saves your management costs.
Avoid any purchase error beforehand.
#3 Receive Proof Approval Virtually
Integrating web-to-print technology into your business makes you completely free from traveling to your print company to receive your proofs. You can review your design proof on your laptop screen and give your approval for production even when relaxing and having your evening coffee. It saves your time and unnecessary travel hassle as well as makes the production process faster. Everything is just one click away.
#4 View The Catalog of Your Products In A More Centralized Way
The W2P system makes it possible for you to view the catalog of your products and print orders that you print in one place. It centralizes all your business data regarding your print jobs. It saves a lot of time for you or your management whenever seeking previous orders and related information.
#5 Increases The Ordering Capabilities Remotely
With a successful inclusion of web-to-print technology into your business, you are capable of logging in into the system from anywhere anytime. You can smoothly handle multiple purchase orders remotely. You have the full administrative approval function in the system to manage the purchasing processes from anywhere you are at the time.
#6 Web-to-Print Reduces Administrative and Inventory Costs
Order on-demand frees you from maintaining an inventory. W2P technology provides product self-customization to pricing and invoice solution and reduces pre-production involvement times. As you are managing and executing multiple steps before the order goes to the printer, it's effectively saving a lot of your administrative costs. You are in complete control of customer order, approval, and transactions of your business.
#7 Access & Order Whenever you Want
The web-to-print interface lets the customers place orders or reorders any time they want, even if it's off-hours.  The customer doesn't need to wait for the printers to open. Some of the product design interfaces include quoting or tired pricing options too, which makes it a lot easier when you have a deadline ahead.
#8 Create & Control Your Brand With Web-to-Print
Digital printing, along with web-to-print, helps you to create your print business brand. Also, you have the option to create a logo template that will stay constant with each product you sell even while the product is customized.
Moreover, it saves a lot of your valuable time from redesigning your products to showcase your brand specifically. Customers may customize the products, but the predesigned template is there to advertise your brand consistently.
#9 Fast Order Processing
You already have a business page set up online. When a customer places an order, your web-to-print solution enables an option for you to receive a print-ready file like JPG/SVG. You can directly send the print file to your printer company for fast production. It makes the order process a hundred times faster for you.
How can your customers benefit from web-to-print technology?
As a print business owner, you already have understood the tremendous challenges you have in the business. Other businesses that have a strong business foundation and financial ground are your biggest threat.
So, find something unique to offer your customers and prospects to grab their attention, which encourages them to use your service repeatedly. Something unique that other businesses may not offer to their customers. It's the perfect time when web-to-print technology takes the stage. It's capable of granting your customers something out of the ordinary to make difference for you and your business.
With web-to-print technology, your customers are in charge of whatever their needs are. They can get the service they want, whenever and in whatever way they want. You only need to choose the right web-to-print solution and integrate it with your current business model. The rest requires waiting.
Now it's time to jump into the question – how web-to-print technology can help your customers? In what way can they benefit from it?
#1 Custom Print Jobs Of Different Quantities
Think about explaining your customer requirements to the print companies every single time you receive an order. Isn't it very tiring and time-consuming?
For example – one of your customers wants to send a particular Christmas card to 200 people, and the printer doesn't require a lot of explanation here. But, what if the customer wants to send a certain number of cards designed and addressed to specific people, another particular design with a different image on it while a few more with other requirements. So, it's easily understandable that this print job requires a lot of explanations. In this scenario, not only you but most print businesses don't have the time or energy to engage in such long-winded interactions with the printer.
With a web-to-print solution, your customers can place different types of orders whenever they want and no interactions required. As the business owner, you can plan your order style and design decision with multiple orders you are about to send to the print company. No long-winded interactions or going back and forth needed in the print job. All you need to do is to set up a template of the Christmas card, and customers will do their design based on their preferences.
#2 Secure Your Printing Environment
Not only you but also all the businesses in the world want to protect their brand identity. You will never allow any unauthorized access to any sophisticated information regarding your marketing or promotional materials. Also, you will try die-hard to protect your marketing or promotional endeavors from your competitors. You surely don't want your competitors to know the secret of how you are attracting and engaging your customers.
Surprisingly, the traditional ways leave a backdoor open, where your corporate identity and your print data can fall into the wrong hands easily. But, the successful installation of a web-to-print technology provides a secure print environment. Minor or significant changes in the core system consistently change to protect your identity and improve the experience of your customers and prospects. Web-to-print technology ensures the utmost security by blocking unauthorized access to your business's data.
#3 Your Customer is in Charge
Many print businesses don't have an in-house printing department. So, they integrate print service providers with their company. It helps them reduce the total costs as well as cut down on overheads. But, in most cases, there's hardly a print department needed.
Business, along with its associates, everyone loves to be in charge. In conventional print businesses, the printing company is in charge of the print process usually. But web-to-print has changed the scenario now by taking command of the majority of the printing process. Printers now only execute the print order and deliver it to the business' or customers' address.
The web-to-print business solution is the more likely in-house print department where customers are in charge of the design or other activities.
#4 A Long Term Fruitful Relationship With Your Customers
If your printers succeed in delivering exact order along with quality, your customers are happy. It leads to a long term and fruitful relationship with your customers. You won't even have to waste time to impress your customers and prospects. They are already in charge of doing all the work from designing products to pricing and quoting.
Moreover, your customers are rather happy due to the control over their print job decision. Because they know their requirements won't be lost in the process of translation or finding actual meaning. No doubt, it's a win-win situation for both.
#5 Saves Time, Money & Reduces Material Waste
Imagine one of your customers requires 1000 flyers to distribute. But he isn't sure how many he should order. So he places 1500 for safety. Later he finds only 800 distributed, and the rest 700 flyers are wasted. So, for him, it's a waste of money, and as a business owner, your time and materials wasted.
With an on-demand web-to-print service, your customers won't need to worry about running out of materials. It helps prevent over-ordering and saves your customers from wasting their valuable money and time as well as your materials. Through web-to-print service, your customer can order and reorder only in small batches like 250 flyers at a time. W2P brought a revolutionary change and solution to the print industry.
How Inkybay – Could Be A Better Solution For Your Web-to-Print Business?
Inkybay – Product Customizer is a web-based product designer tool or web-to-print solution that lets your customers design or customize their products based on their preferences. Inkybay enables a fully automated system that undeniably increases the production rate, reduces the production cost and time by eliminating the traditional order process and in-house designer.


Inkybay provides an overwhelmingly customizable layout of interface for product customization. Through the interface, customers can easily add text, logo, clip art, graphic, and even generate design ideas while customizing their products. They can change the product directly from the interface (if needed), background colors, or even edit sidewise. Customers can preview their designs and edit if required before placing the order finally. With the order placement, a print-ready vector file (SVG/PDF/JPG) generates, which increases the production rate.
The key features of Inkybay as a web-to-print solution:
Works for any products such as – apparel/T-shirts, team jerseys, mugs, Pendrive, bar blades, food pick, laptop/mobile cases, socks, business cards, house, and business signs, awards, face shields, mask, stickers, etc.
Real-time product visualization.
Print-ready vector output.
Easy and powerful admin
Tiered pricing.
Easy installation and configurable afterward.
Cliparts and font library.
Mobile-friendly HTML5 designer tool
Last but not least – a dedicated customer service.
Pros & Cons
Here are the pros and cons of web-to-print technology:
Pros:
Ease of transaction and order process: Web-to-print allows its customers to order online with just a few clicks. Customers need not go to the printers to explain their requirements. Besides, printing companies are also free from explaining their requirements to their customers. W2P centralizes product showcase, customization to invoice all in one place.
Cost Reduction: Web2Print reduces the cost of inventory, in-house design, and management as the customers choose their products, do the customization, and pricing all performed online.
Printing Process Becomes Faster: The product selection process to designing, and order takes place online, and the printer receives a print-ready vector file, printing becomes ten times faster than the conventional printing process. The printer prints the product and ships it directly to the customer.
Expands Your Market: Traditional printing businesses reach local-customers mostly. Through the integration of W2P technology, not only your local but also you can approach international customers by crossing the state and international boundaries.
Cons:
It Can Prove Expensive For Small Printers: Web-to-print service requires a lot of digitalization in the business. Limited access to software and server systems can prove challenging to walk consistently with the W2P. The cost of running the entire system may not suit small printer owners.
Simple and Plain Product Is A Must be Required: Web-to-print deals with simple products like mugs, apparel, t-shirts, stationary, easy-going gift items, etc. The more complex the personalization is, the more it's tough to manage the pricing of the product and additional charges.
Experts Involvement Is Missing: Web-to-print provides a fixed template for a product that is unquestionably great. But what if a product requires an intricate design process that only can be done by a high-end professional. A professional's practical involvement in work makes it more desirable and refined.
Final Thoughts
Web-to-print is a process in a very organized system to send print-ready files from consumers to print companies for production via the internet. W2P refers to a broad term that encompasses and involves various methods and technologies. A more advanced W2P system is the fusion of the incompetence of digital publishing and online product ordering features. It becomes highly capable of fulfilling the diverse requirements of print businesses and their customers.
Web-to-print technology is undoubtedly a revolution in the print business world. It has opened the door to more simplistic and efficient as well as faster ordering processes. As a web-to-print business owner, you have full control over your product, material, and brand. Web2Print opens the door to infinite possibilities for you to customize your print business infrastructure. Moreover, your customers and prospects get the ultimate freedom to personalize their products based on their tastes and preferences.