What is a Bar blade? A Must-have Equipment For Bartenders
A bar blade is usually a bottle opener that is used to open the crown bottle top. It is also known as a speed opener.
Now think of a customized uniquely designed bar blade that entirely changes the feel and style of your bartending experience. This is the point where Bar Blades takes the stage.
Bar Blades – Is Now A Neoteric Style For The Bartenders
The Idea of Bar Blades struck Jonny Moate throughout the experience of his bartending life which eventually led him to create his own customized, uniquely designed and stylish bar blades.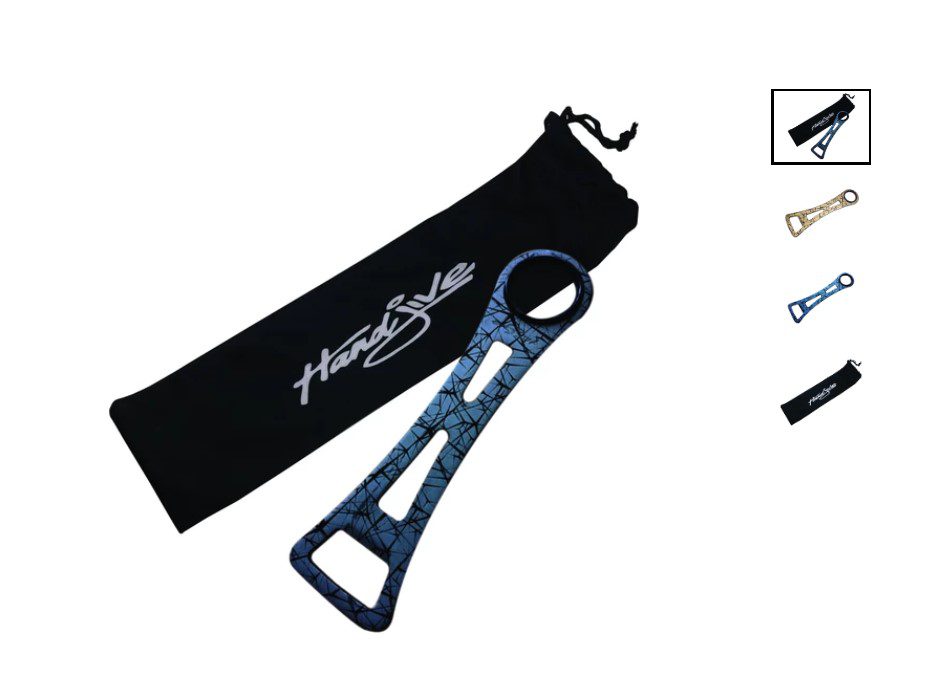 "I originally started purchasing bar blades from America which I started selling on eBay. Sales were buoyant and I started getting interested in countries as far as Australia. After numerous exports and hours of queuing in the post office, it dawned on me that there was a demand and a massive hole in the market. It was then that BarBlades was born."
– says Jonny Moate, the founder, and owner of Bar Blades.
Source: BarBlades.com
The company doesn't only provide bar blades but also started producing bar equipment as well. They elevated the trends along with distinguishable style and design to an artistic level. There are hardly two people who share similar tastes. Bar Blade is giving its customers a chance to customize and design their bar blades according to their very own choices and tastes which is certainly a breakthrough in the business.
Why Web-Based Bar Product Personaliser Was Introduced In The Bar Blade Business?
When it's a matter of choice it really is difficult to find two people with similar tastes. For a business like Bar Blades, it is supposed to be a tiresome, costly and lengthy process to design mock-ups especially when it is engraving a product like a bar blade until the customer is satisfied.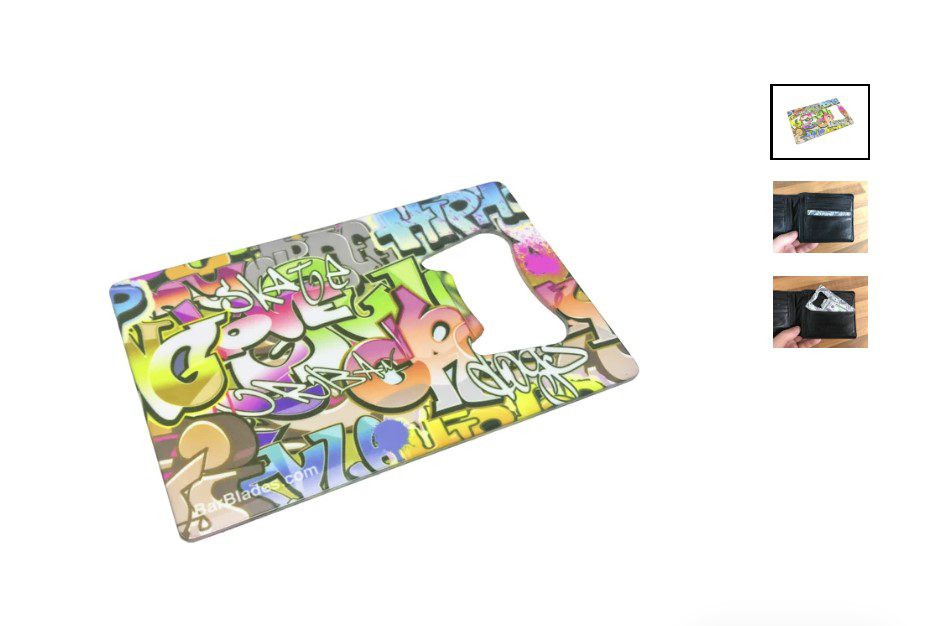 To make the design, visualize, live price quoting and finally get the engraving ready vector (SVG/PDF) output file, Bar Blade decided to introduce a web-based product designer tool to their online store through the installation of Inkybay Product Customiser.
And The Positive Impact Started in The Ordering Process…
Through the integration of the customization options, customers themselves got the opportunity to create the design of their own bar blades, hand jives, bar wrench, credit card opener, etc based on their tastes and requirements. Now they are capable of choosing the colors, or quantity of the product, or add graphics, texts, even upload a custom logo of their company. They can easily place an order or request for a quote as well as instantly get the chance to preview the ultimate result visually (how it looks like after engraving) their own creation before order. On the other end BarBlades  gets the engraving ready vector (SVG/PDF) output file right after the order is placed, which reduces their in-house designer cost, smooth order processing and finally the production time and cost.
Now think about yourself being a customized product business owner. what kind of relief it would be for you if you find solutions for all your problems in one place!! Wouldn't that be a feeling like cloud nine?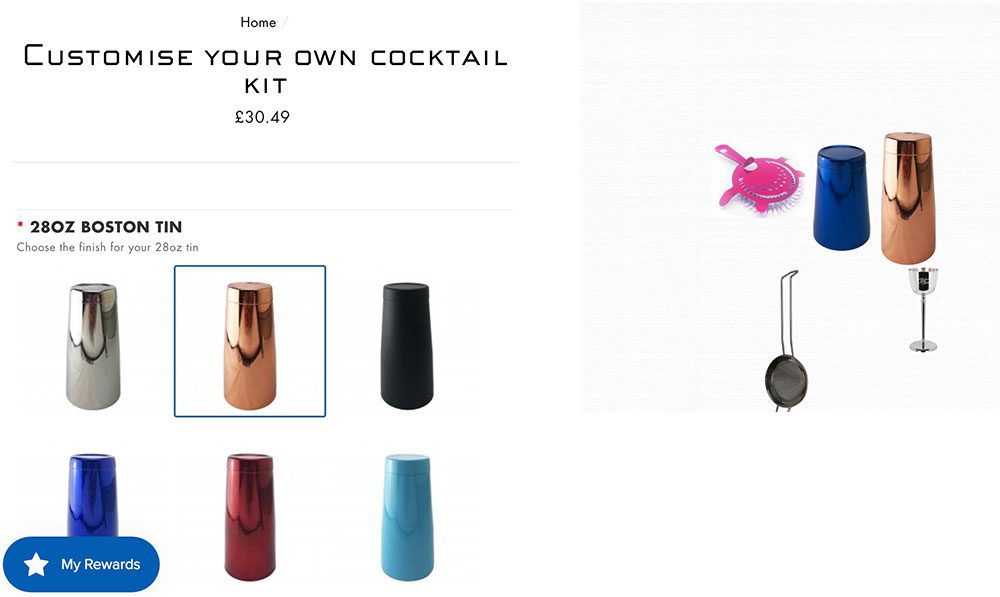 Bar Blade Along With The Inkybay Product Customiser
Bar Blades – now has turned into a place where you find bar blades, mixing tins/cocktail shakers, muddlers, strainers, jiggers, and other bar equipment. And the journey along with the Inkybay – as a Bar Blade Customizer, the complete automation has succeeded in adding a personalized tone to every customer's product.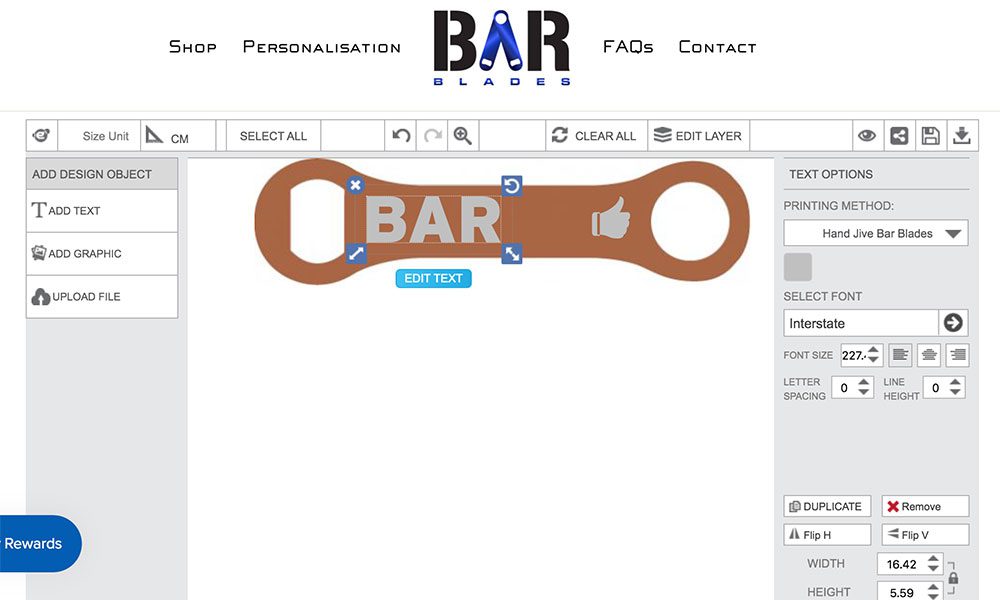 Looked for a long time to find an app that did everything we needed. We came across this app and it did most of the requirements. However once installed the developers were always on hand for questions and small changes that worked better for us. Really helpful staff and app now do everything we need it to. Amazing. Thanks Guys

– Bar Blades review from Shopify app store.
In the personalization interface Bar Blades has enabled the option to engrave bar blades along with text and graphics. The engraved text will be one color here resembling the actual color of the chosen product. For instance, if you have chosen Copper Shadow Hand Jive Bar Blade to engrave a text on it, the engraved text output color will be copper.
Not only engraving bar blades but Inkybay Product Configurator has surprisingly encompassed the ultimate design solution for all kinds of products from toothpicks, board pins, socks, tshirt to luxury automobiles or even home interior.
In 2009, Jonny Moate and his Commercial Director Mannie Sehmar attended a Bar Show. One of their customers said – "You guys smashed it". They had to go through a vigorously active day and replenish their supplies twice in one day.
This is the successful business story of the Bar Blades…
& the journey continues…