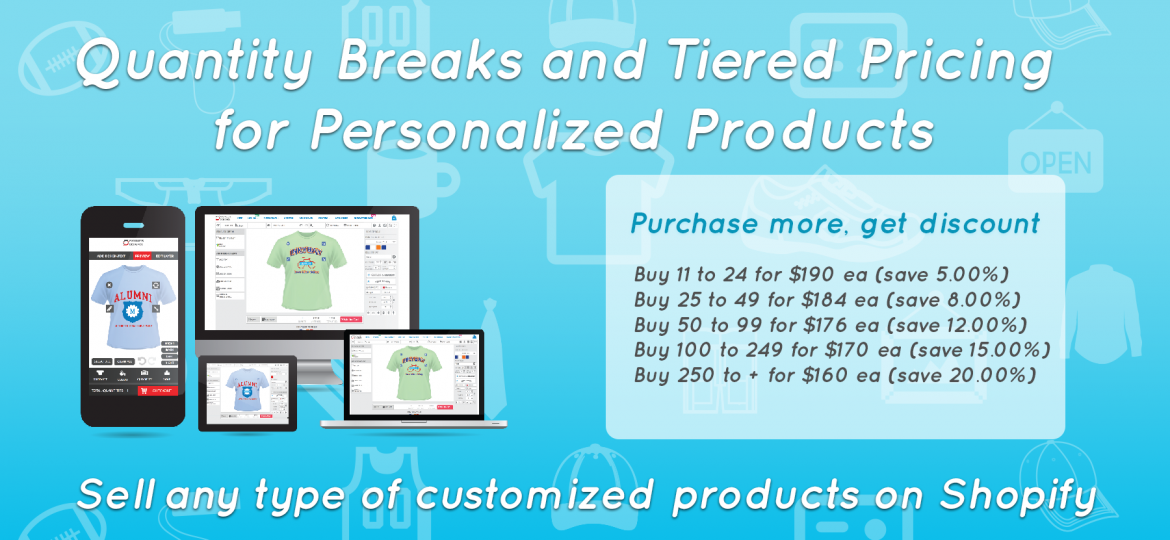 The most requested feature for our Inkybay – Product Customizer has been for adding quantity based tiered pricing for customized products using product personalization tool.
That's why we just upgraded the Inkybay Shopify app in a major way: now you have the ability to make more money by offering customers an additional discount if they purchase more items! And you do not need to use any other app for offering quantity-based discount for selling customized product in your Shopify store, it's built in with Inkybay – Product Customizer
Now you get more freedom by selling with Inkybay:
Add Quantity Discount/Tiered Pricing to customized products of your Shopify store based on how many custom products/items a customer purchase.
Offer product quantity discount by percentage or a fixed amount.
Motivate customer to buy more with an additional discount offer.
Customized preview of the Quantity Breaks table on Shopify product page. You can include any information or text as you want to show!
How Inkybay tiered pricing works?
Managing Quantity Breaks and Tiered Pricing.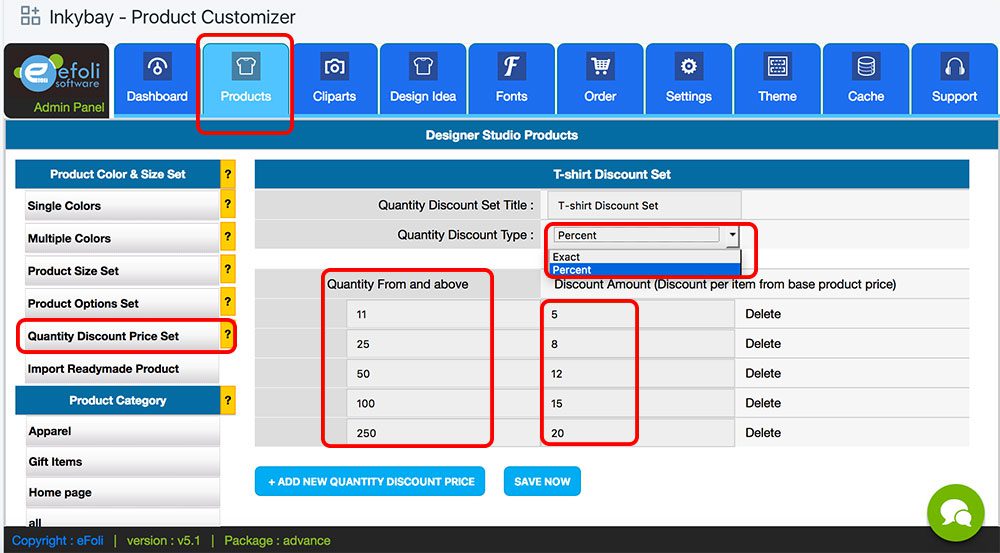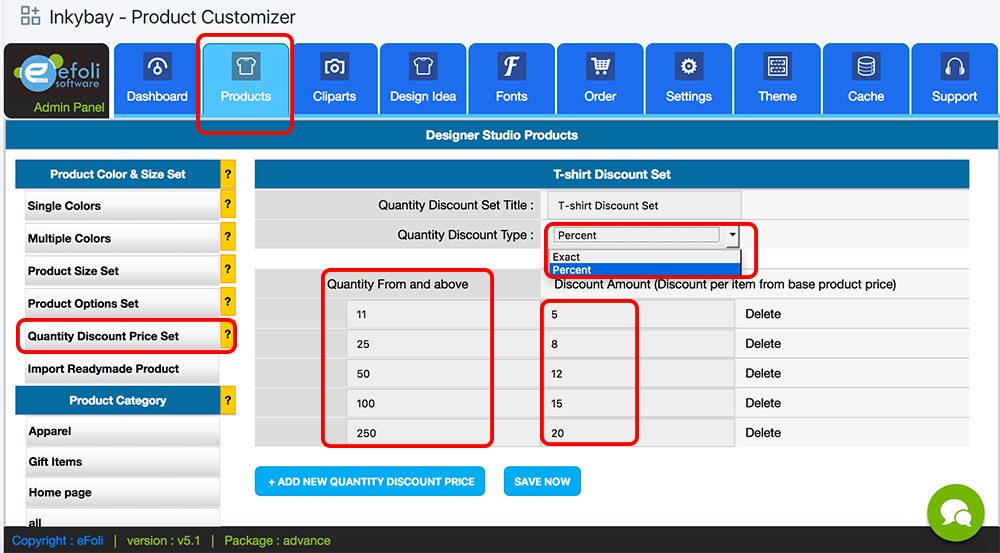 Create unlimited Quantity Discount Price Set: Navigate to Inkybay app admin >> Products tab. Now there is a new option added named "Quantity Discount Price Set", create a new set to apply discount.
Quantity Discount Type: Select from discount type from percent or exact. If you want to make a discount type as percent (%) basis or if you want to apply discount as a fixed amount per items.
Create discount table: Add Quantity range and applied discount amount over based product price and save. You can add unlimited range as needed.
Apply to products: After creation of the discount set, now you can apply this to the product where you need to offer quantity discounts. You can apply same created set to multiple products (if it meets a similar condition for discount).
Show your customers how much they save when purchasing more items.
You can show the quantity discount option to your Shopify product page, that customer can see how much they will save if buy more items. You can customize the view of the discount table as you need from admin setting, including adding custom CSS.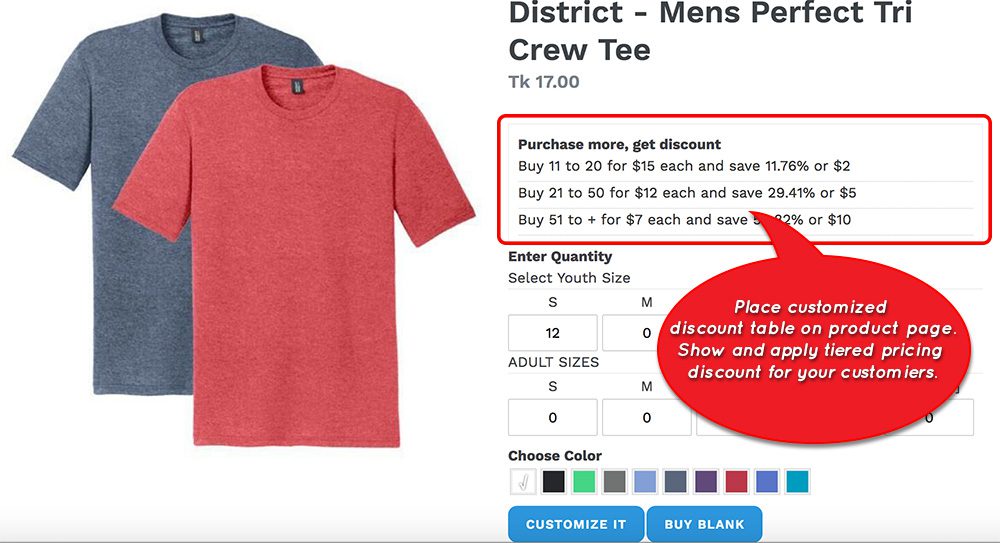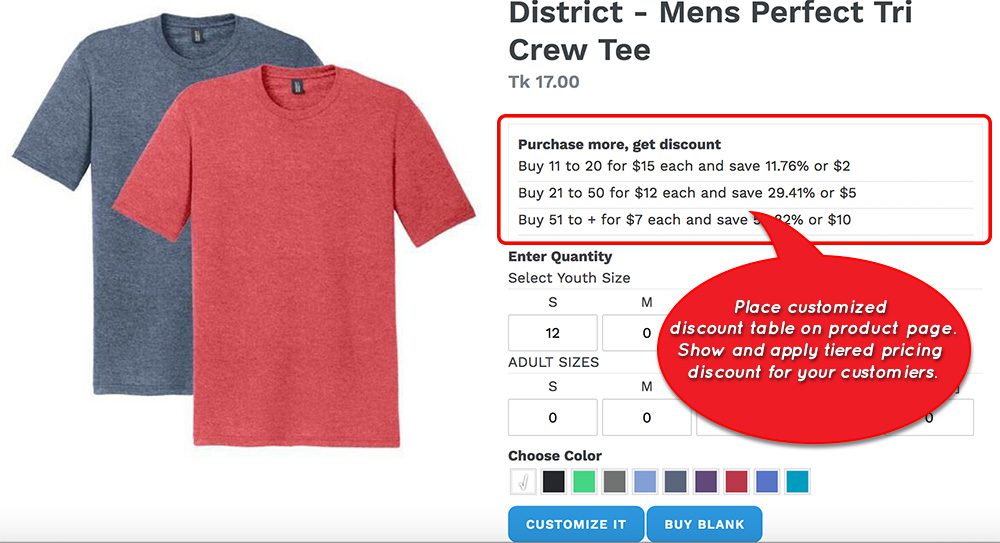 Inkybay product personalization tool automatically applies the discount amount as customer choose product quantity. In the shopping cart, the customer will see the discounted price as well.
Get Inkybay – Product Customizer for Shopify with 14 days FREE trial now.