Customized web-to-print solution
Ready to go product designer tool for ecommerce platforms Magento, Shopify, PrestaShop, WordPress/WooCommerce and Joomla/Virtuemart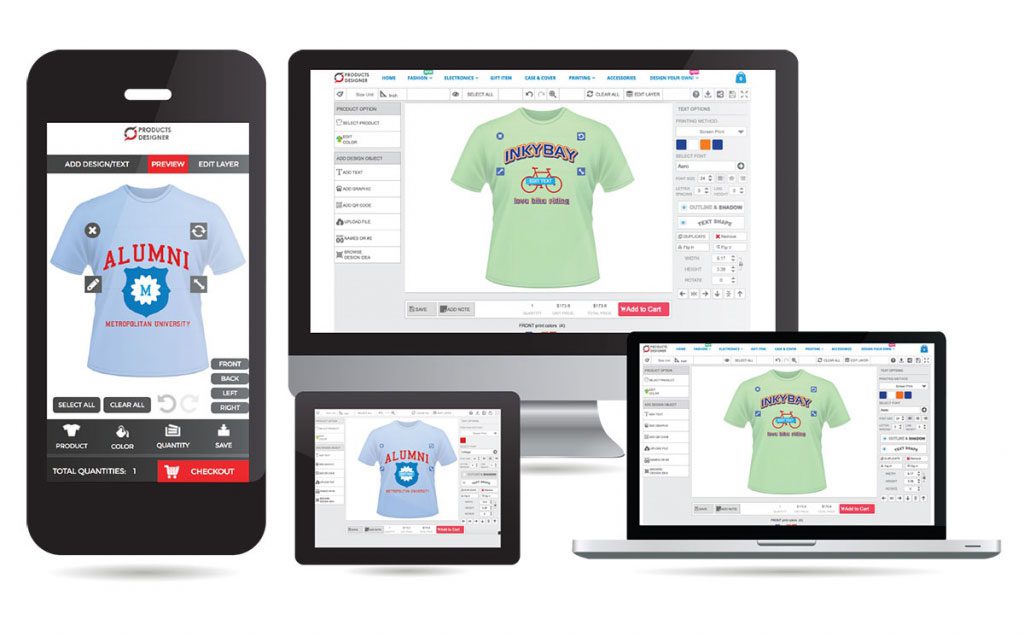 Best mobile friendly product customizer tool for your custom product selling business
ProductsDesigner Introduce outstanding customization experiences for your customers by allowing them to create and visualize their own, perfect products with Inkybay Web-to-Print Solution.
We developed rich web applications to make printing/personalized product selling business easy. Complete solution for digital printers with online custom product designer software.
Powerful design tool – Let your customers design for themselves, right on your website to increase sales, reduce errors, and save production time.
Support any kind of personalized products (T-shirts, team jerseys, mugs, mobile cases, signs, business cards, configurable window, bikes or your imagination).
Easy & Powerful admin panel to manage everything from shopify back end including custom products, arts, template, fonts, printing method & customization pricing, order & quotes, print ready vector output.
With a variety of integration options, as well as flexible licensing options, InkyBay is a must-have software package for any custom design-based eCommerce store. Discover this unprecedented online product design tool complete range of capabilities, and discover why you need InkyBay working for you today!
Custom Product Configurator Technology
Perfect for your online printing business.
Inkybay is the key to increasing your profits with best features
Powerful Online Product Personalization Tool
All-in-one online product customization software with rich personalization tools that helps print shops increase sales, reduce errors, and save time.
Inkybay will increase your sales and customers satisfaction by personalizing your products for each customer.
Customizable Multiple Design Tool Theme
Choose from available multiple designer themes based on your business needs. You can active/deactivate features from admin design tool settings.
Design theme customization is available on request.
Photo Editing & Shape Masking
Customers can upload their own raster photos (PNG, JPG, GIF, BMP) or vector (SVG) design. Live photo editing features provide the option to choose number of design/print colors, instantly apply color effects colors or to remove white backgrounds, cropping and masking, resizing and adding special effects.
Easy & Powerful Admin Panel
Manage everything right from your store/shopping cart admin. Configure customizable products, arts, Create pre-decorated templates, upload fonts, configure printing method & customization pricing, manage order & quotes. And do a lot more easily with our admin help docs.
Pre-decorated Template Builder
Design idea builder software gives you advanced setting options and pre-designed templates that can be edited or personalized by adding new text, shapes, or uploaded images.
Admin can set design element restrictions for limited editing option by the user. Set default template for products.
Print Ready CMYK Vector Output
Get production ready order files from your store admin including all side vector files with additional product configuration and design details as text.
Download order files as vector PDF (CMYK), SVG and transparent PNG.
Setup Product Customization Pricing
You can setup product customization additional pricing based on printing types from admin. The system will generate a dynamic custom price based on user design and selected options. Setup customization pricing with a setup fee, Photo Print Price, Text Per Character Price, Name and Number Price, Maximum Color Per Side, Design per color/quantity pricing table, Per Square Inch Price, Price By total design size range. Also can set additional pricing for product options like – Size additional price, color price, style price and more pricing setup option.
Works for any Custom Products
Inkybay empower your print shop to offer outstanding customization experiences, whether you sell Custom T-shirt/Apparel, promotional items, mats, business cards, shoe, phone case, cap/hats, promotional bags or bicycle

Using Shopify as eCommerce Platform?
Start selling customized products on Shopify today!
Seamless integration with your favorite e-Commerce platform
Inkybay offers a seamless integration with your favorite e-commerce platforms. Our product designer tool is now available for Magento, Shopify, PrestaShop, WordPress/WooCommerce and Joomla/Virtuemart. And we are working on integration with more shopping cart platforms
[contact-form-7 id="2522″]