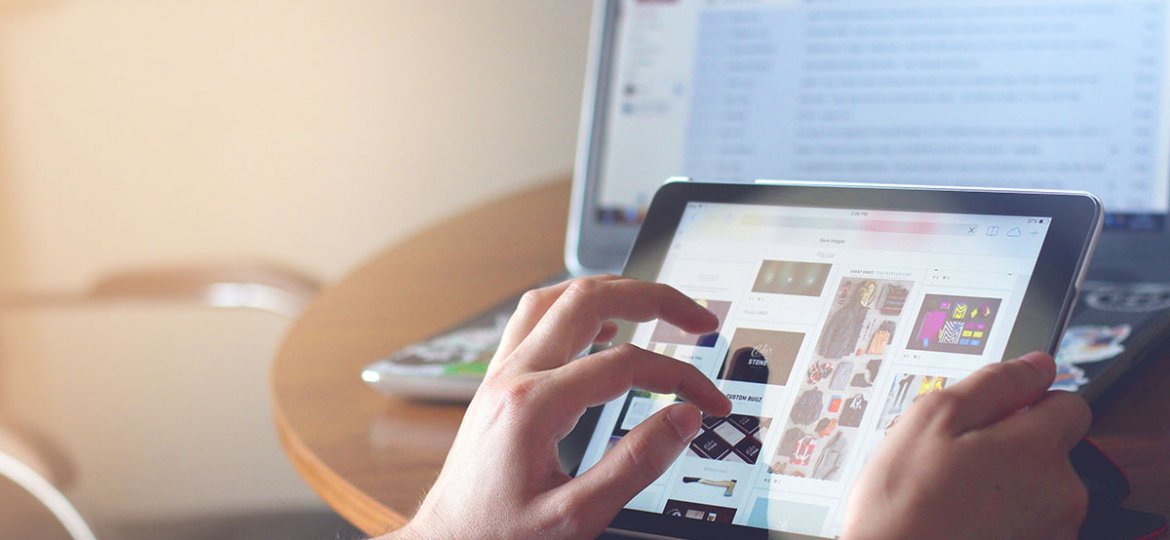 E-commerce has changed business for the better. To customers, it offers flexibility to shop from wherever and whenever they want. To business owners, It gives access to customers around the world, a level playing field, and unlimited shelf space.
The ability to cater to multiple customer segments often results in businesses having gigantic product catalogs with a large number of SKUs, and it may end up confusing customers individually.  In fact, nearly 40% of shoppers have left a store to buy from another site because they were overwhelmed with too many options.  It goes to show too much of a good thing can create problems for you. This is counter-growth, as a loyal customer base is a key to the long-term success of any e-commerce.
Maintaining a loyal user base involves not only a good product offering but also a relevant experience to each user individually. Almost 75% of your potential customers will be frustrated with irrelevant content or products that are not specific to them. This is where personalization marketing comes in for e-commerce.
What is Personalization Marketing?
Personalization, at the very core, means customization of your website experience and customer experience for individual users. It involves the collection of various forms of data about your users – from general parameters like demographics, geographical location, traffic sources etc to the way they interact with your website. This ultimately helps you serve relevant content and tailored experience and to users.
The collection, organization, and usage of the data make it pivotal process in providing a contextual experience to your users. The roadmap to e-commerce personalization marketing can be broken down in a few phases. This article will briefly introduce each one of these phases, as each one of them is highly detailed and deserves their own article to be actionable.
1. Segmentation For General Website Experience
Not all segments of traffic were created equal – and so you cannot generalize your website to satisfy all of them.  Different audience segments will have different interests, expectations, and intents of browsing your website. For example, a customer from a region with higher average income and education will be looking for more high-end products as compared to student customers from a university town. Segmentation, at its core, involves tailoring content based on broad interests. Various segments can be based on:
New and Returning Visitors: Determining whether they are visiting your website for the first time. If it's not their first visit, are they existing customers or nonpurchasers? This data will help you craft appropriate discounts/offers to encourage engagement.
Traffic Sources: Monitoring various sources of traffic such as organic search, social media, Pay Per Click (PPC) channels, email marketing etc. They can tell you a lot about the buyer, their industry, their interests and so on.
Geolocation/ IP Address: Which part of the world/country/state the visitors are situated in. This data can be gathered using the IP address, and it'll help you show relevant currencies, offers, seasonal products etc.
Behavior: Based on how users are interacting with your website and your content, you can serve further relevant product recommendations, and optimized experience. There is a range of options here, which are discussed further in this article.
UTM Parameters: UTM tags can help you identify the referral sources, campaigns, and the exact type and pieces of content which are bringing in users. Using data from a combination of these parameters, you can build highly targeted landing pages.
Device: Mobile browsing counts for the majority of internet traffic in 2018 (about 52%) – which makes it crucial to optimize your website for the device users visit it on. This data will also help you optimize the experience by syncing PC browsing history, providing social logins etc.
2. Behavioral Targeting
Once you've optimized your website to suit broad segments of traffic, it's time to get up close and personal. The heart of personalization lies in 1:1 targeting – customizing the experience individually for each user. Behavioral targeting aims at analyzing more specific customer actions and their 'on-site behavior patterns' to optimize the experience. You can target an endless number of on-site parameters, including:
Number of Visits to Website
Products They've Viewed
Products Bought – their purchase history
The path they take to visit your website (referring sources)
Products added to cart, wishlists
Carts abandoned
Checkout Pages Visited
Search Queries
Discounts Opted For, Coupons Applied
.. and the list goes on. You can measure and analyze all the micro-interactions to get into the users' mind and understand their intent. This will allow you to personalize the experience further by offering:
Inline Dynamic Content: These dedicated areas for adding content specific to user segments. In such customized content blocks, you can show something as small as showing shipping fees for the country the user is in to make it more relevant. Take the ThinkGeek website for example: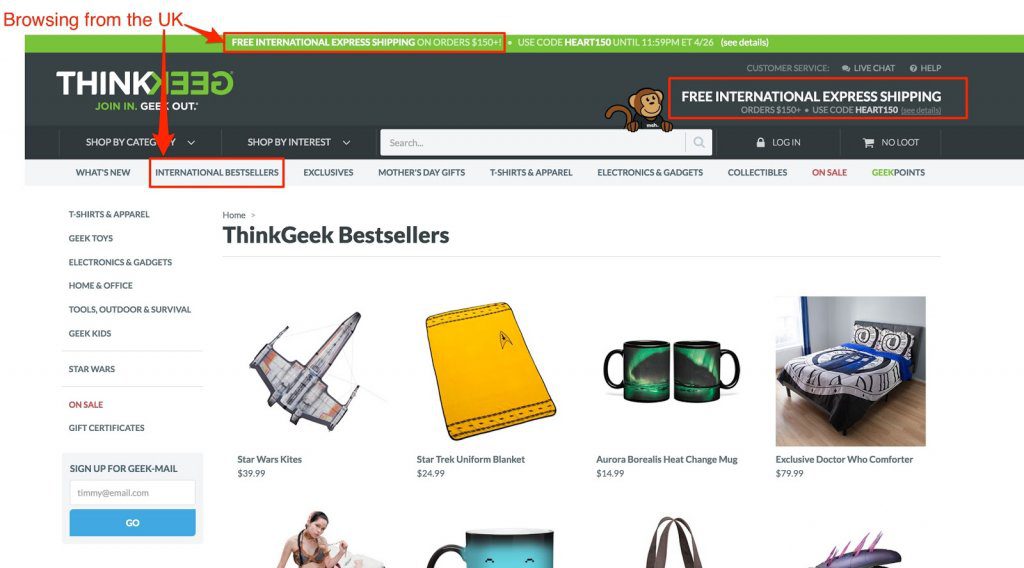 Now if I change my location to the US, the website changes these blocks accordingly.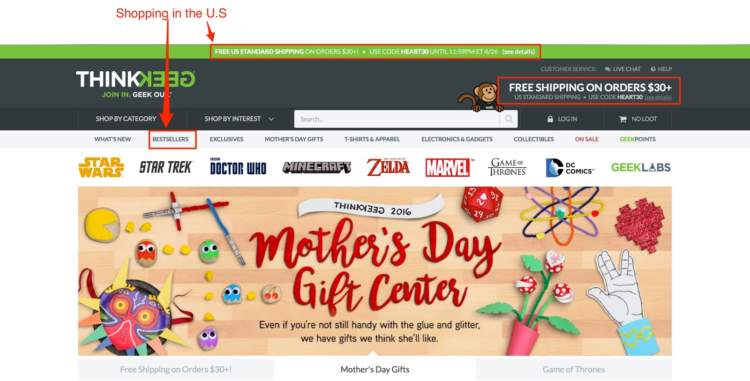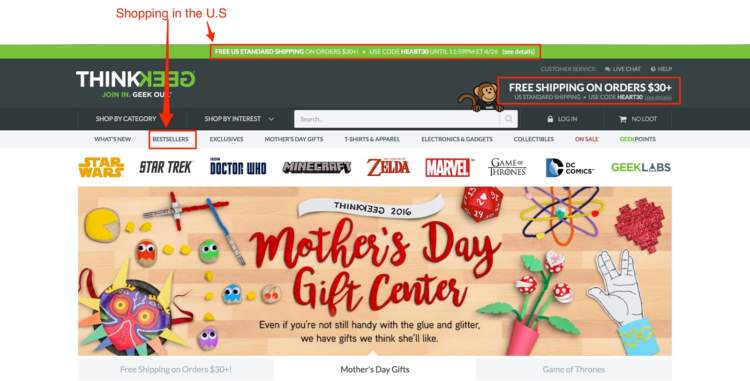 Website Overlays: Overlays include offers, discounts, email collection requests etc, which can be packaged as pop-ups, slide-ins and headers/footers. A pretty effective way to show personalized offers, and the key to getting them right is deciding the right place and the right moment to show overlays to the user, based on their behavior.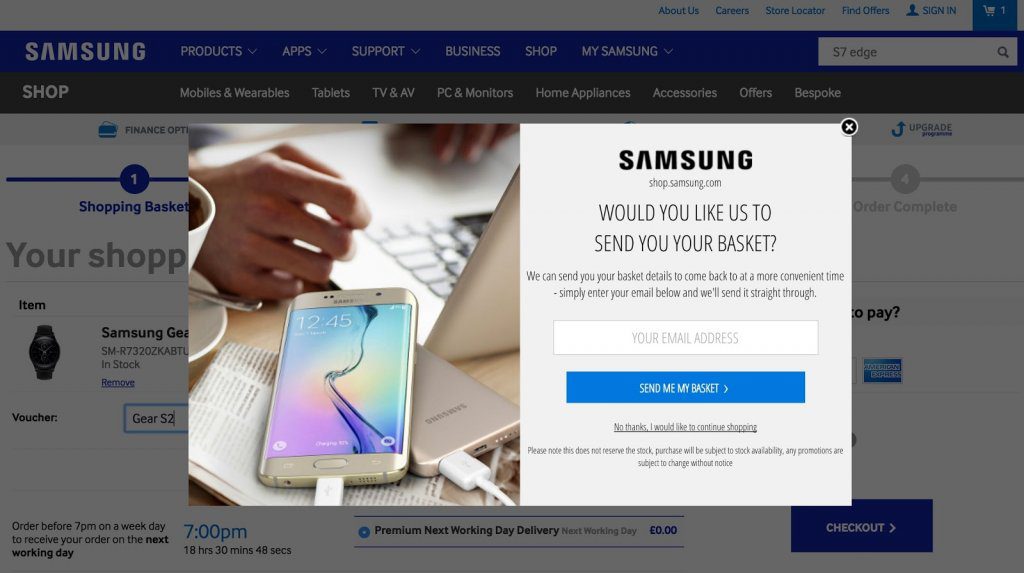 Product Recommendations: One of the most effective aspects of personalization marketing, it involves suggesting products users would like, based on their browsing and product history. We will discuss this further in the next section.
Off-Site Social Media Pixel Targeting: A good personalization strategy involves a good off-site experience too. Social media is now a crucial channel for communicating with users, and you can retarget users using social media pixels, based on:

All website visits
Product page visits
Products added to cart
Check Out Sessions
Purchases
Personalized Email Marketing: Email remains one of the most effective ways of driving e-commerce business. With personalization, email marketing can bring in even more returns – personalized emails are 26% more likely to be opened and 760% better at generating revenue. This personalization is powered by collecting as much data as possible on users, including how they interact with your website, specific content, and emails itself. Personalized email automation is a huge process in itself, and we'll discuss it in a future article.
3. Product Recommendations, Upsell and Cross Sell
As Amazon has proven, personalized product recommendations can be one of the most effective improving customer experience in your e-commerce. Barilliance conducted research on 1.5 billion shopping sessions over a period of three months across industry verticals. 11.5% of the revenue on the e-commerce sites studied was attributed to personalized product recommendations. Here are how various types of product recommendations fare: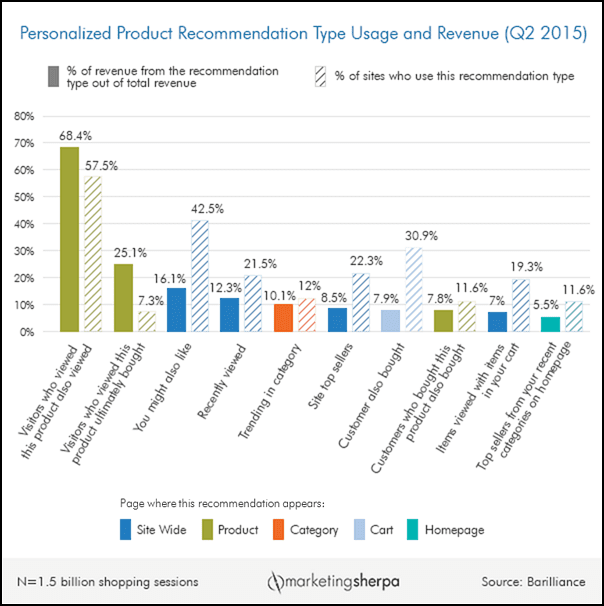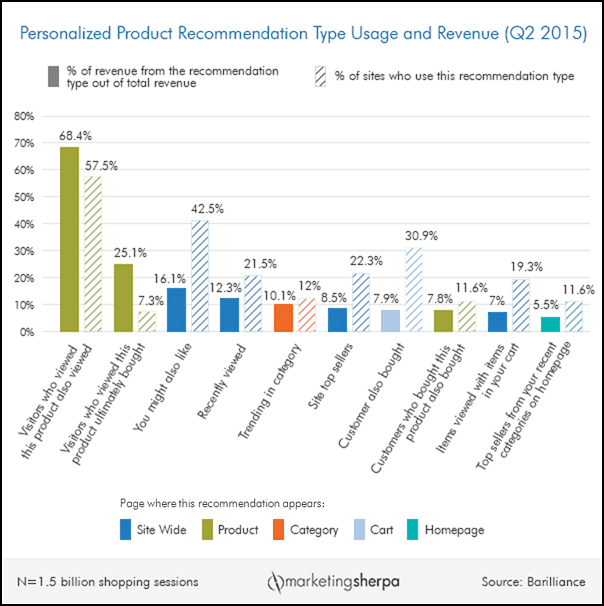 The core aim of personalized product recommendations is to get users to add more products to their cart than they originally planned, thereby increasing the average order value. Upselling and cross-selling are two effective strategies for this:


Upsell: Selling an upgraded/ premium versions of the product users are aiming to buy.
Cross Sell: Selling complementary accessories or bundles for the product the user is planning to buy. Here is a great example of both strategies at work.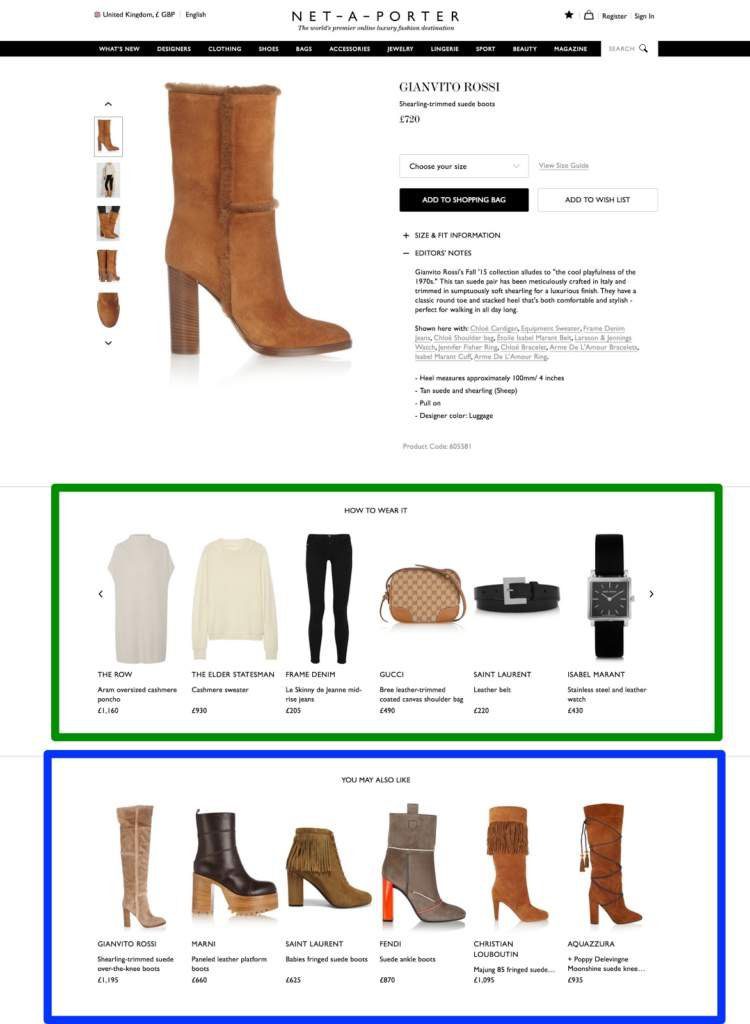 Personalization Marketing in E-commerce: Success Lies in The Details
Most personalization marketing is based on collecting and using data effectively, you need to dive into data specific to your business to see success with these strategies. Take decisions on observations of what works and what doesn't. This article briefly explains the broad strategies and approaches to implementing personalization marketing in your online store. We will discuss each of these phases in significant detail over the coming weeks.
Which strategies do you use for personalization in e-commerce? Feel free to mention any if we've left them out!