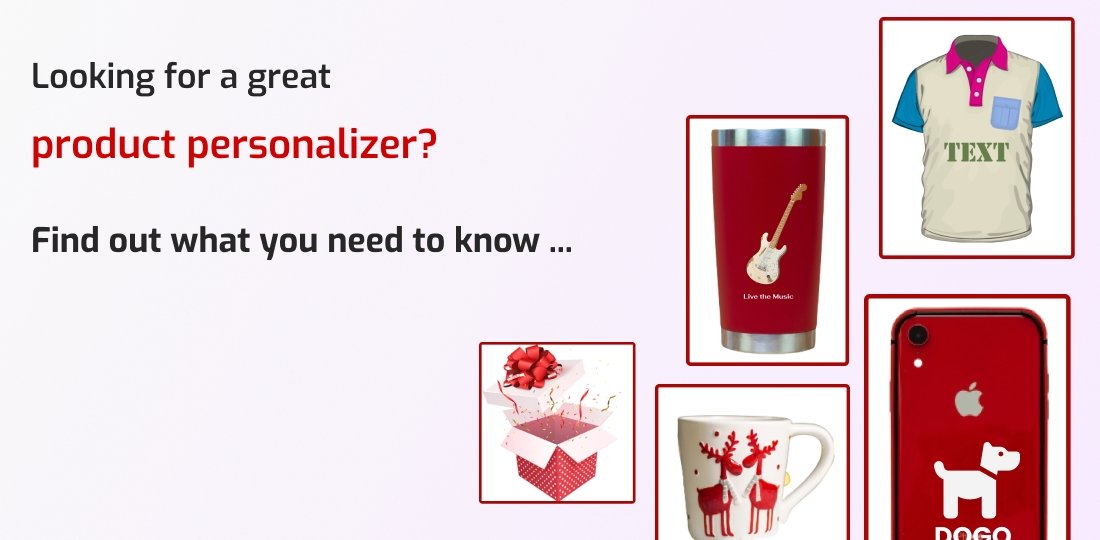 In 1990, the concept of "Product Personalization" was developed. That means the journey of product personalization started just a few years ago. But if you look at the progress of modern product personalization, you will see a tremendous change.
The market for modern personalized products has grown faster than we imagined in the past few years. People nowadays like to save time by doing things online. Personalization is nothing different.
Recently, when People often think of a product personalizer or product configurator when they want to customize something.
According to  Start up Bonsai, Nearly 90% of consumers expect a personalized experience from brands. Moreover, about two-thirds of customers believe a company should offer personalization to improve their CRO in the print business. But what is a "product personalizer"?
A product personalizer is a tool that can help you to solve any problem you're having with your Web-to-print business.
If you own an eCommerce business, you may know about the effectiveness of product personalizer. Then one thing that should keep in mind is that not all Product configurators are suitable.
To find a real alternative to a traditional product designer, it's essential to choose the right product personalizer. We will help you with this, but before we do, you should know why a Product personalizer is so important. In this article, we will try to answer your queries about product personalizer.
First, look at some of the most frequently asked questions about "Product Personalizer"- 
1- What is Product Personalization in eCommerce?
"eCommerce product personalization" defines the process of personalizing products according to the choices of individual customers. To personalize a product, customers can apply their preferred additional design, such as text, Graphics, GIFs, photos, logos, etc.
2- What is Customization vs Personalisation?
Customization and Personalization are similar, but there is a thin line between them. The term "customization" refers to manual modifications of a product made by a customer's choice. On the other hand, Personalization means changing a particular part of a product's design or features.
3- What is an Example of eCommerce Product Personalization?
Product personalization means adding text, logo, name, graphics, and photos to a product.
Personalization of eCommerce products is a very vast field. There are many ways to make a product unique. Each product personalization works according to the type of product and its design.
But if you want to generate some ideas about how to personalize a product, then you could consider the personalization of a t-shirt as a good example. T-shirts are common, but a regular t-shirt could become something special with the touch of personalization.
An individual can add text, graphics, photos, company logos, names, and other additional designs on a t-shirt to give it a personal touch. Click here to know more about the t-shirt business.
4- What are Product Personalization Techniques?
Product personalization techniques can differ depending on the product type and how well the product configurator works. But if you look at the basic techniques.
You can see that using a flexible product personalizer, reaching out to specific customers, and analyzing the competition are the most effective techniques.
5- How do you Personalize a Brand with a "Product Personalizer?"
A product personalizer enables you to increase your brand's visibility through a product. It will make your product more outstanding than your competitors. It will mark you safe from being copied.
When you are just looking for something unique to establish a brand in eCommerce, find a store that will allow you to design products with a product configurator.
Or if you have a print-on-demand business in eCommerce, then you can use such a kind of product personalizer on your own.
6- How do I use product personalizer on Shopify?
As we already know, Shopify offers bunches of product personalizer applications. You can choose according to your preference.
To add a product personalizer on Shopify-
First, go to the Shopify App Store and log in. 

Then, choose your preferred product personalizer by searching and installing the application.

On the page with the list of apps, click "Add app."

Click Install app in your Shopify admin to allow the app to be used.
7- Can you Sell Personalized Items on Shopify?
Yes, you can. A wide range of eCommerce businesses sells personalized products on Shopify.
Shopify is one of the best eCommerce platforms, offering a higher range of product personalization options with numerous business-centric third-party applications.
The definition of personalization in Shopify can vary from business to business. But in general, adding a name, date, graphic, GIF, or photo to a particular product defines the business of product personalization in Shopify.
8- Is Shopify Good for Custom Products?
The simple answer is "Yes". Shopify is a fantastic platform where you can sell your custom product using a product configurator. This also offers in-built editing tools, a high degree of personalization, and control over the store.
So, there is no doubt that Shopify could be a top pick for any business model.
9- What is the Strategy of Product Personalization?
With a personalization strategy, you can find the ratio of customers who share common needs but have different design requirements. These customers love sharing their specific interests and demand through a product.
So, when running a custom business, consider using a product configurator to match all customer needs.
10- Why Personalization is Important for Customers?
Personalization is the way to build stronger relationships between brands and their target audiences.
Personalization ensures that the client's needs, wants, and interactions are met. When personalization works perfectly, it increases customers' CLV and AOV value. Also, it makes customers feel like they are shopping in a real store, even though they are shopping in eCommerce.
11- How Effective is Product Personalization?
Personalization has been shown to increase retention rates and customer loyalty regarding customer engagement in eCommerce. Personalization reduces the chances of providing repeated data to clients.
As a result, in a holiday season like Christmas, BFCM, or New Year, specific criteria of customers demand personalized products to give their loved ones something special. Read here about how to attract last-minute holiday shoppers with personalized products.
It lets customers have more customized experiences, which increases customer loyalty and business revenue.
12- What are the two main reasons to use personalization?
There could be thousands of reasons for choosing personalization techniques. We can explain it to you from two points of view.
First, if we talk about the business perspective, two reasons could be-
Allowing users to design their products to meet their needs

Beating competitors by increasing customers' CLV and ROI. Know how to

calculate

the ROI of a print business
Secondly, we can talk about users' points of view-
Users can make their product unique from others

Personalization always puts extra value on establishing strong brand visibility
13- Why do people love personalized products?
A product's personalization technique benefits both the service provider and the user.
People today don't like products that are the same as others; they want something unique. A personalized product always makes a person feel good because they have designed it independently.
From the store owner's point of view, letting customers personalize their product boosts sales and customer loyalty. Read here to learn how customized product increase sales.
So to grab customers' attention and increase revenue, find a product configurator to help you out. In such a case, you can try InkyBay-Product Personalizer.
Looking for a Product Personalizer- InkyBay here!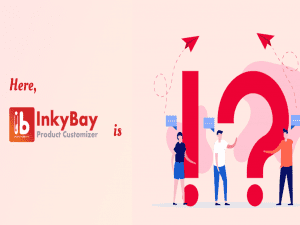 This section will examine some questions and answers about the InkyBay-Product Personalizer. These questions are from real InkyBay users –
#1. What is InkyBay?
InkyBay-Product Personalizer is an online tool that allows consumers to design their products according to their choice. In general, InkyBay is a product configurator, but in deep, it's a versatile tool that can beat all web-to-print business challenges.
#2. How to set up InkyBay?
After installing InkyBay, navigate to the admin panel. Then, access products from your InkyBay dashboard. Then, click "make it customizable" on the product you wish to configure.
Then, click "make it customizable" on the product you wish to configure. To make a product customizable, you need to set the sizes, printing type, color variant, and upload an image from the advanced settings.
When you are done, save it. Additionally, do not forget to click yes on the "active on designer" option.
#3. How can I apply for the discount?
To manage the quantity discount, hover your mouse over products, then choose "Product Quantity Discount," or you can do it on the same page where you add or change your customized products.
#4. How can I add color?
To add color, go to the InkyBay admin panel. Then Go to a product and scroll down to "Product Colors." Next, Click + icon to add color.
However, you can add color by using the color code or an image instead of the color feature. Lastly, save the settings.
#5. Where can I add the setup fee?
To add the setup fee, go to the InkyBay admin panel. Then, hover your mouse over "Products" and click "Printing Types and Pricing." Select the printing types, click the edit sign, and set the price.
#6. How can I set a predefined design?
To add the setup fee, go to the InkyBay admin panel, hover your mouse over Design, and click Predefined Templates. Next, click the + button to add the template.
Then, rename the template name and click on "Start designing." Select the product and add designs. Lastly, save the settings and reload the design lab.
#7. Can I add a minimum quantity restriction?
Yes, you can add a minimum quantity restriction to InkyBay. To add:
Go to the Inkybay admin panel, hover your mouse on Products, and click on Printing Types and Pricing.

Select the printing types and click on the edit sign.

Then, go to the restriction option and set the limit.
#8. What is the standard size for uploading images?
The standard size for uploading images in Inkybay is 520x520px.
#9. What does it mean by "White Label Solution?"
"White Label Solution" means using your logo instead of InkyBay's. For instance, when a user of the InkyBay load design lab sees a loader icon that can be replaced with their preferred logo.
#10. How to import ready product mockup?
You can import ready product mockups in two ways. To import a ready product mockup, follow these steps-
First, go to the Shopify admin panel and hover your mouse in the import custom panel. Here you will see different categories of products. Click your preferable one. Then two options will appear to choose and click to create new. Better to select the "not in any collection" option.
Moreover, you can connect the mock and your existing products in the second method.
#11. How many ways to set product color?
There are two ways to set a product's colors.
When you have different color pictures of each product

When you only have one image and want the app to change the color automatically
With the first option, you'll have to add each image separately according to the color. And for the second method, a white, background-free image of the product must be uploaded.
#12. How to add clipart?
First, go to "Design", then go to "Manage Clipart" on your InkyBay dashboard to add clipart. It will bring you to the page called "Clipart Management."
Use the Clipart Category box to see all the clipart that belongs to a specific category. Now, with "Manage Categories", you can add a category or subcategory or change the ones already there. It will let you add a new Clipart image.
Bottom Line
In a web-to-print business, a business-oriented product personalizer can increase business revenue, profit, and customer loyalty. Numerous product personalizer are available, but which is perfect for your business? Evaluate that according to your customers and competitors.