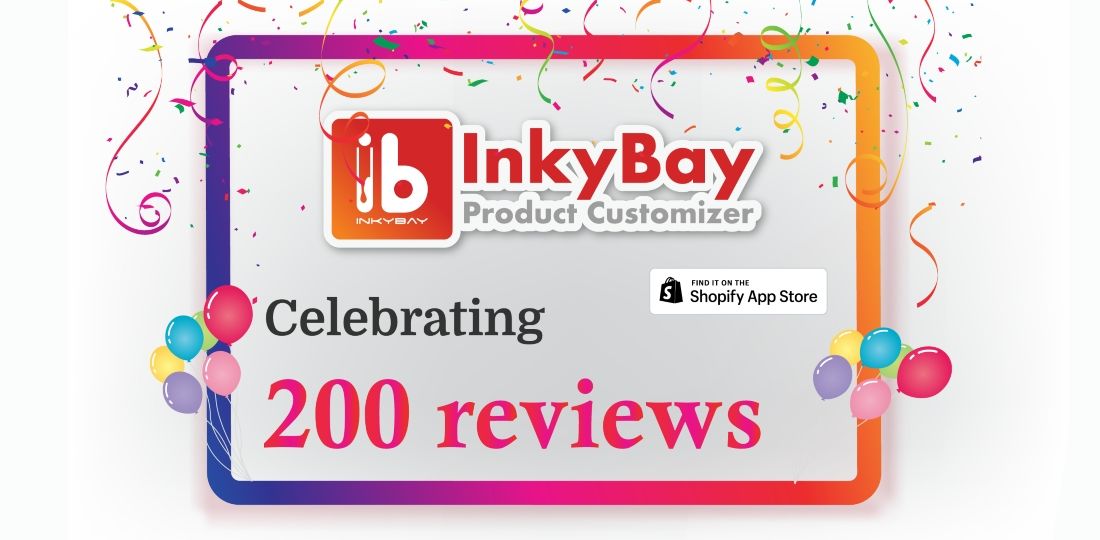 Achieving merchants' positive feedback means your application is solving their business requirements. It also encourages the team to work more enthusiastically. But, earning positive feedback from the application users is challenging. 
The first criterion is that your developed application must have real-life business-oriented features that really help merchants to stand out from the crowd. And the second criterion is that you have a dedicated team who actively listens to your app users and makes adjustments accordingly.
InkyBay – Product Personalizer has earned its 200th review on the Shopify app store, fulfilling the above two significant criteria. In this article, you will learn how this product personalizer is helping thousands of merchants grow faster than their competitors.
What is InkyBay – Product Personalizer
InkyBay is a product personalization tool that lets you offer your customers personalize their own products. With this tool, you can sell any customizable products like –
T-shirts or any apparel

Business cards

Mugs

Signs

Shoes 

Stickers

Any customizable items
With this product builder tool integrated into your store, your customers can design their products with images, texts, and other options live on your website.
How InkyBay Is Solving Merchants' Business Requirements & Helping Businesses Grow Faster
Customers are nowadays willing to pay more if they are offered to personalize their own products. In fact, a product personalizer helps customers to get their exact dream product. So, customers prefer an online store that offers customization experiences.
InkyBay, a feature-rich product customizer, lets businesses offer an outstanding shopping experience to their customers. With this personalization tool, merchants doing personalized product-selling business using the Shopify platform are growing faster. This has let those Shopify merchants put their happy words regarding the app on the Shopify app store. To know more, you can read this. Now, Let us explore how this app can help you grow your business faster.
Simplify Your Personalized Product Selling Business
Once you use a product personalizer on your store, your customers can add text and graphics or upload a logo on their chosen product. This simplifies your business and helps you supply the exact product your customers want. This also saves you time. Because you do not have to think much about the design of the product. So, the process gets easier. Just let your customers choose from pre-designed templates, personalize them and place the order.
Generate Dynamic Pricing On Product Page Based On Custom Design, & Option Selection
You might be stuck with your pricing strategies for customized products. It is challenging to offer a suitable price range based on the selected options (color, size, design, etc.) and display them live on the product page. This is where InkyBay – Product Personalizer is helping the merchants to generate a dynamic pricing strategy. This is one of the reasons why Shopify merchants have put their positive feedback regarding the app. The following screenshot shows one of InkyBay's client's feedback on the Shopify app store.

InkyBay Team Is Committed To Providing 24/7 Best In Class Support
InkyBay has a dedicated 24/7 support team who are always actively making any adjustments merchants ask. The team is committed to providing the best-in-class support and fulfilling clients' business requirements. The business-oriented features and the committed management of the InkyBay team have made it possible to earn 200 reviews on the Shopify app store. And, no doubt InkyBay will reach more merchants and help businesses grow faster, leading to more positive feedback from merchants in the coming days.
Final Words
Reaching the milestone of 200 reviews on the Shopify app store is an excellent achievement for InkyBay. The enthusiastic customer support team and regular feature modification of this product personalization tool have made it a trustworthy solution for many personalized product-selling businesses.