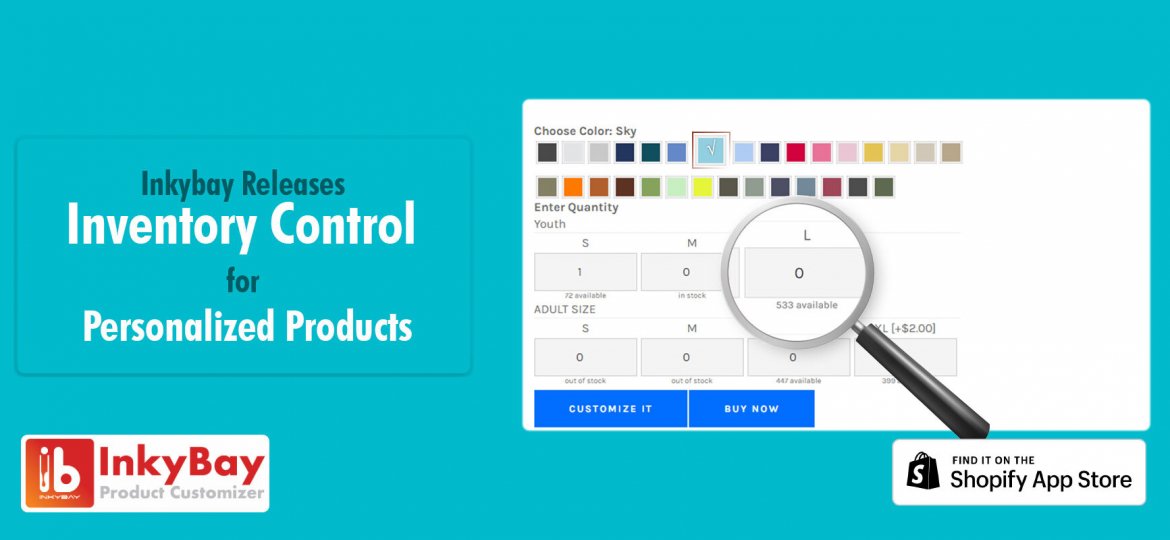 Today we are excited to announce the big feature update for Inkybay – Product customizer. Inkybay released the most requested (by merchants) feature – inventory control for customized products.
Now you can control ordering personalized products based on available inventory configured in Inkybay admin (this feature is available from Inkybay "Advance" plan). Configure inventory management for an unlimited number of combinations (aka variants). Yes, you heard it right! It's unlimited. You can literally generate millions of combinations (we tested with 15 digit numbers of combinations) by adding an unlimited number of product colors, sizes, styles, parts (panels), sides, and groups.
Note: The new inventory management system works independently with customized products configured in the Inkybay app. Currently, it will not work with any 3rd party systems.
Why is inventory control so important for personalized or configurable products?
For every inventory-based business, it is so important to track or control your customer's orders based on your available stocks. When it comes to customized or configurable products selling store, it's so crucial to restrict customers to place an order with blanks or parts which you are running "out of socks". Because personalized products are always connected with customers' emotions. If they place an order with their own design and finally they don't get it delivered as they expect, it will be a huge emotional detachment with the customer for future orders.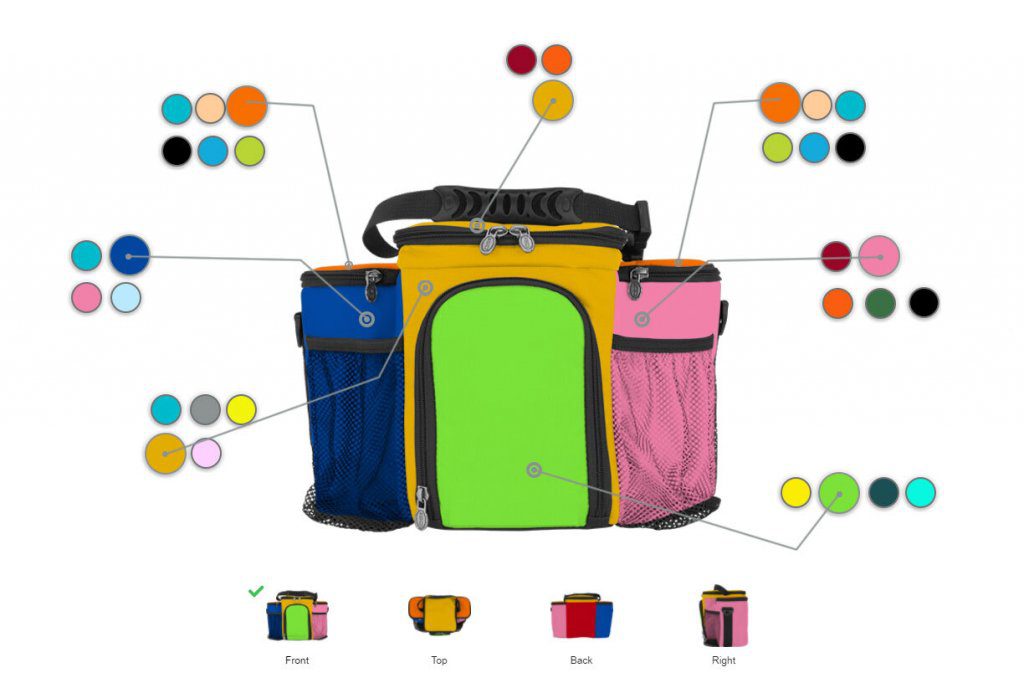 An effective inventory system tracks how many products are available in your stock and forecasts for future supplies based on sales volume. This allows you to restock products far enough ahead of time to prevent stockouts.
Also, the most important thing is based on your available stock, you can restrict your customers to place orders within your available stock. Otherwise, if your customers place an order which you are already out of stock, it will lead to order cancellation, refund, and finally a bad impression from your customers.
A good example could be, you are selling t-shirts with personalization, you may have multiple sizes and colors available for blanks in different combinations. Like below table: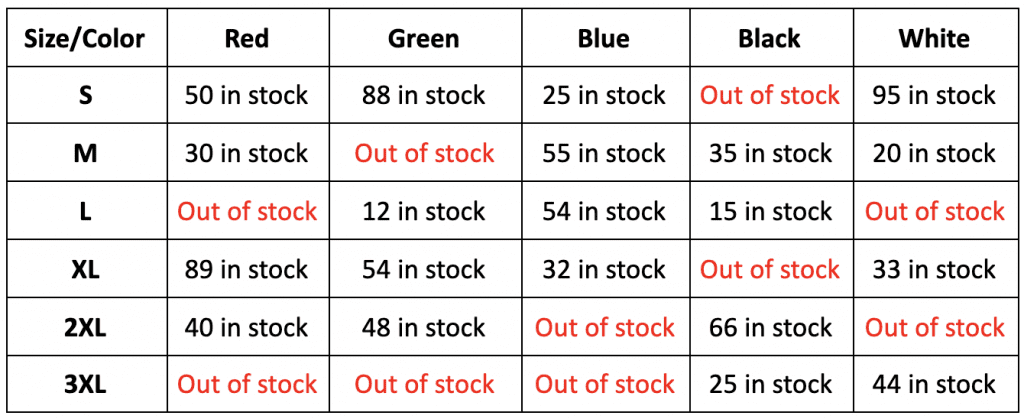 Now, if your ordering system doesn't check your available stock quantity and allows you to place an order for 3XL/Red (which is out of stock), you will end up with a canceled order and refund to the customer.
What is the limitation in existing Shopify variants combinations?
As you know Shopify supports a maximum of 99 variant combinations for a product. If your products require more than 99 variants, you can't accommodate them into a single product. Which is a common requirement for apparel businesses like T-shirts. For example, a T-shirt may contain 10 different sizes and 30 different colors, which is a total of 300 variants combinations. There can be even more variants. You can't accommodate these variants into a single product.
In another example, you are selling configurable bags which contain multiple parts like a left pocket (10 colors), right pocket (10 colors), lid (7 colors), front/back panel (8 colors), and zipper (5 styles). Customers can choose any combinations available. This example will generate a total of 28000 (10x10x7x8x5) combinations.
You can't add these general products and inventory control is impossible.
How does Inkybay overcome the limitations of variant combinations?
Inkybay made it simple! Yes, you can add an unlimited number of product sizes, colors, styles, and parts for your customized or configurable products. And now you can do inventory management for your personalized products. Manage inventory for an unlimited number of variant combinations.
How can I enable/configure inventory for my personalized products?
If you are on Inkybay advance, professional or unlimited plan, now you will see the new feature called "Inventory" under restrictions, while you are editing the products in the Inkybay admin.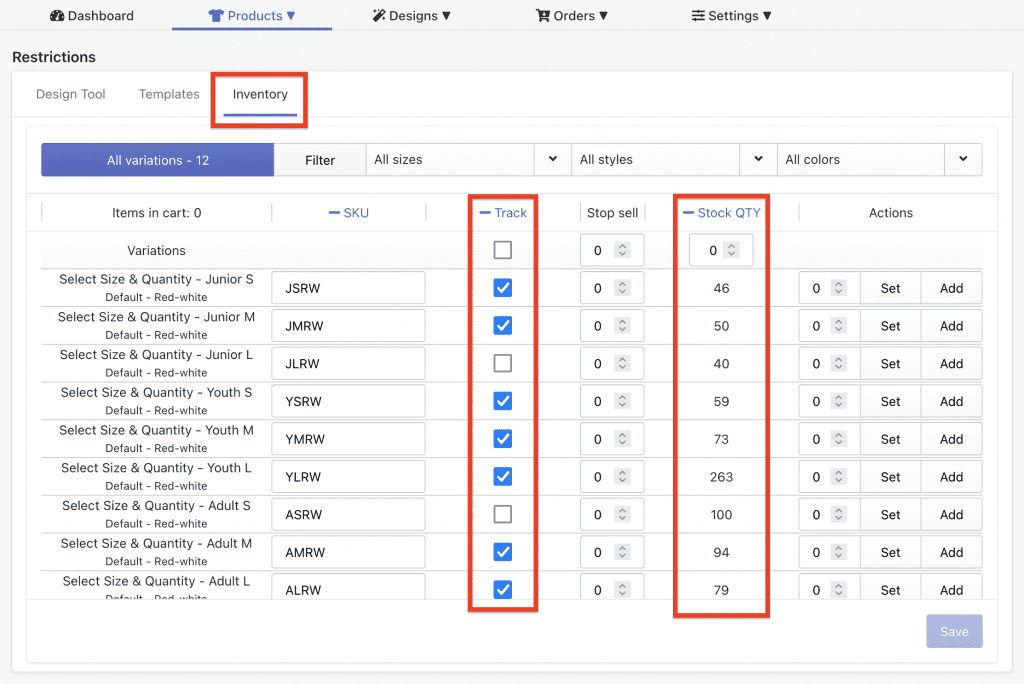 Under the Inventory tab, you will see all your available variations for the product based on your configured size, colors, and styles. You can filter data to display minimal by Size, Style, and Colors.
To enable inventory checking, you need to check the track and add the available quantity for variations and save.
On this screen you will see:
Variations: See all variations based on your current filter.
SKU: You can set a unique SKU for this combination. If you set this SKU, the app-created product will carry this unique SKU while placing the order.
Track: Enable to track inventory in the front-end. Based on these settings, in the front-end, it will display the available stock, out of stock. If unchecked, it will display an "in stock" message for the combination.
Stop sell: If the stock reaches this quantity, it will display "out of stock" in the front-end and will not allow adding to the cart.
Stock QTY: Your available stock. This stock will be deducted based on add to cart, and it will display the current total cart items for this combination. If the product is finally placed in order, it will deduct the quantity of stock or if the order is not placed after a certain time, it will remove the app-created items and restock the inventory.
Actions: Add/Set inventory quantity.
Save: After adding your inventory data for the current selections, click save to update data as you currently have.
Items in cart: Here you can see the current total items added to the cart by customers who have not yet placed an order. It will be reset after a certain time if no order is placed for the current cart.
How does inventory work in the front-end for custom products?
After you enable and configure inventory for your custom products into Inkybay admin, it will start tracking inventory based on your available quantity for the combinations. It will display the available inventory under the quantity input box on both product pages and in the design tool. Also, it will restrict customers to add to the cart if they try to add more quantities over your available inventory.
So, now you can restrict over-ordering from your available inventory for your customized products with unlimited variant combinations.
Happy personalized product selling with Inkybay.