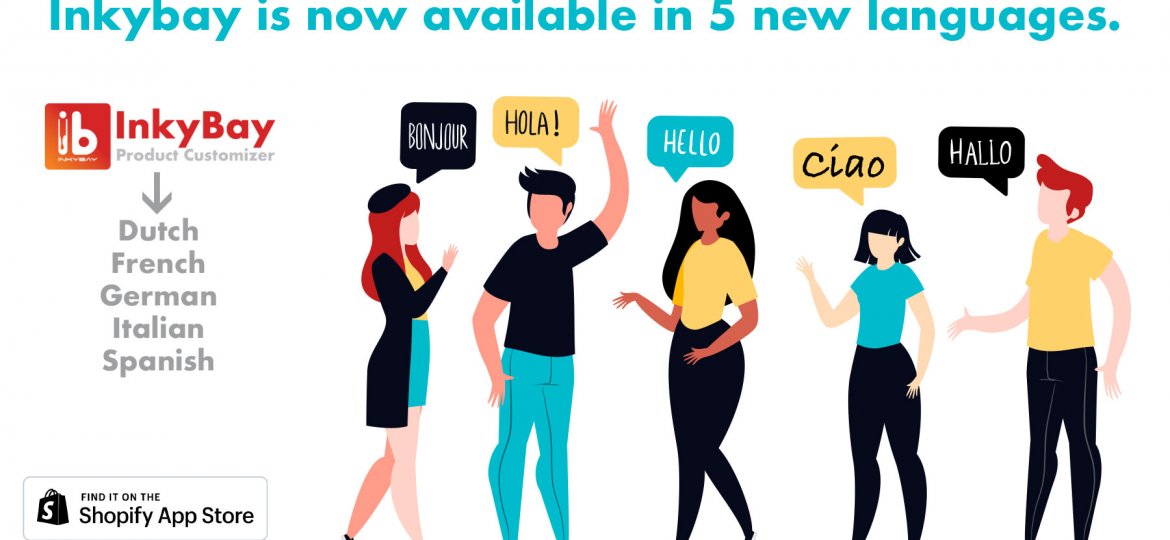 Inkybay – Product Customizer has already been a multilingual customization solution in the business. It has eight languages supported in the front end. But we decided to create a multi-language supportive backend to make it more comfortable and merchant friendly.
Why A Multilingual Backend?
Inkybay users encompass regional differences. Our customers are from the USA, UK, Europe, Canada, and many more countries. For a user who is a French native speaker, English support backend is no less than a hostile environment like war for him. To make the entire process hassle-free and comfortable, and most importantly to localize our product native language friendly backend has become a must-have for Inkybay.
We, Inkybay, wanted to give our customers an easy and smooth user experience by providing them with a long-desired multi-language backend. So, here we are now with the new feature of backend with six languages.
Inkybay – Product Customizer Is Now In Six Languages
Inkybay – Product Customizer has successfully reached a broader audience. To expand the business and cover other regions and different languages, it has decided to go multilingual. In addition to English, Inkybay – Product Customizer is now available in six more languages:
Dutch (Nederlands)
French (Français)
German (Deutsch)
Italian (Italiano)
Spanish (Español)
Finnish (Suomi)
How to get Inkybay (back end) in my localized language?
To view Inkybay in your localized language, you do not need to do anything manually. If your Shopify account Preferred language is set any of the above-mentioned languages, you will see Inkybay in your local language automatically.
Here, certain things you should know now:
Inkybay may have started with six languages for now, but consider it just the beginning. We are working day-night to deliver more content in your native tongue. We have concrete plans to translate our application into all the existing languages in the coming months and years for your convenience only.
We are trying our best so that you can go through all the features using your native language and understand everything very clearly.
If you opt to use these languages to test them out, make sure you write down the problems you are facing. We sincerely wish to have your honest feedback no matter positive or negative and resolve any problems regarding language that occurred to you and make the improvements ASAP.
It was not entirely possible for us to take this initiative without the enthusiasm, interest, and support of our amazing user community. Still, there are considerable changes required with the available languages. We will continue working on that until it is perfect and our users are satisfied.