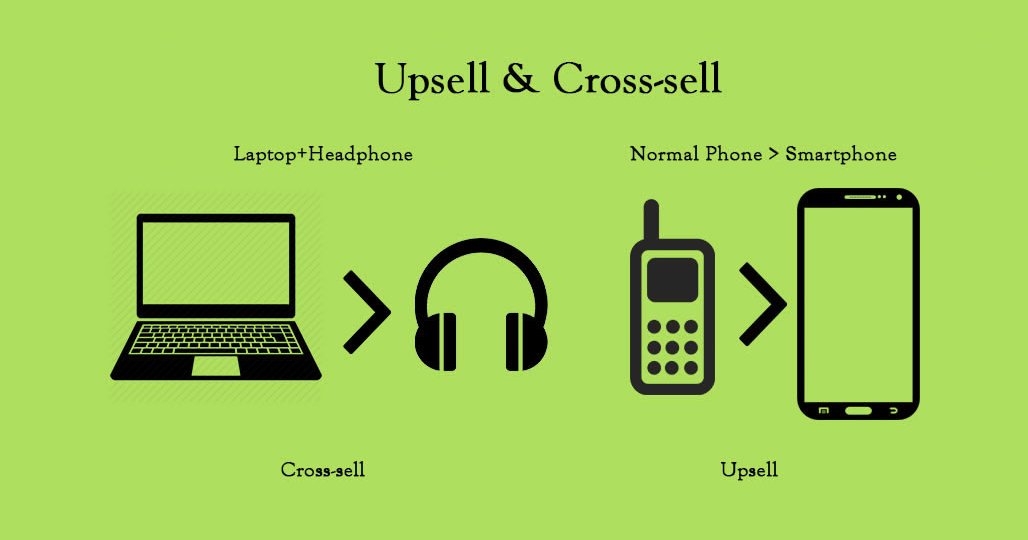 Using the strategies of Upsell and Cross-sell, a seller or business persuades their customers to buy the better version of the product as well as related or complementary products. Businesses worldwide, no matter eCommerce or brick-and-mortar, have implemented these strategies for many years that helped them boost their profit margin surprisingly and as expected.
Upselling and Cross-selling – if you are a startup, unaware of it, and haven't applied it, you should. But – how does it work? In this article, we have discussed how upselling and cross-selling strategies work, why you need them, and how proper implementation improves customer satisfaction and boosts your revenue.
Upsell and Cross-sell
To extract the best outcome, you must know what upselling and cross-selling are. These two business terms are sometimes thought to be the same or interchangeable, yet there are fundamental differences between them. Though, they both serve the same purpose that is maximizing sales and generating higher revenue.
An Upsell is a business strategy persuading customers to buy the same product either with additional features or the upgraded version of the product. Every business owner applies upselling in their business from time to time. For instance, someone came to purchase a computer with a budget price of $400, and you persuade the customer to buy a laptop with a bit higher RAM and additional storage or graphic card that will cost him or her an extra 60 to 100 dollars more. It means you are increasing your sales by nearly 20-30%. It's an upsell.
A Cross-sell is a technique simply persuading the customers to buy additional or complementary products along with the main product. The customer came to buy a laptop from your store, and cross-selling is that you encourage him to buy additional items (at 5-10 percent of the main product) like a mouse, pen drive, cooling pad, or a laptop stand.
Three Things To Consider
Three Things To Consider Before Upselling and Cross-selling in your business determines whether your endeavor to upsell or cross-sell is worth the time and effort or not.
Recommended products should be complementary to the product customers intend to purchase. Upsell and cross-sell both works perfectly, depending on how relevant the products are. Either a better version or a product that goes with the purchased one should be the sole purpose of all your efforts.
Whether the complementary product benefits the customer or not is most important. A mouse or cooling pad can be helpful, but an extra RAM may be a computer part but of no use while purchasing a brand new laptop. So, the question is – does the product you are recommending benefit your customer? If the answer is No, then thinking about cross-selling further is useless.
Are you sure your customer is capable of spending more? If your customer is on a tight budget, then they are after one product, and if you push too hard, they might lose interest to buy from you and leave. So, you must learn to be patient and respect their wishes.
If the three things mentioned above stay in your favor, then you are free to apply your upselling and cross-selling strategies, or else do not push too hard that might lead you to lose your regular customers or potential prospects.
13 Powerful Ways To Successfully Upsell and Cross-sell
Here are 13 strategies implementable for successful upselling and cross-selling to boost the revenue of almost all the eCommerce businesses:
#1 Product Relevancy
Think about yourself trying to purchase a laptop. Now would you buy a DSLR camera lens with it? No right? A Pendrive, Portable hard drive, WiFi router, laptop cooling pad, laptop stand or holder, or even antivirus software could be a related product.
Product relevancy is important in upselling and cross-selling. There should be a natural connection between the product a customer wants to purchase and you as a store owner trying to upsell or cross-sell products.
#2 Eliminate The Customer's Confusion By Bundling Products
Product bundling is nothing but combining multiple products to sell as one package. For instance – combining a DSLR camera with an SD card, an additional lens, and a camera bag. It is also known as a "package deal" amongst retailers. The best thing about the bundle offer is that it always reduces customers' confusion and decision complexities.
In a product bundle offer, pricing is most important as the offered price must be cheaper than the actual total price of the products. For customers' utter engagement, the price should be enticing and cheaper. As a store owner, you solely know the exact prices of the products and the individual sales profit better than anyone else. So, calculate how much decreasing prices in a bundle still keeps your profit margin satisfactory and then apply. Product selection remains entirely upon your choice but remember to make it relevant always.
#3 Product Recommendation
Recommending products is an effective technique to upsell and cross-sell at your online store. Take the eCommerce industry giant Amazon for an example. While searching for a camera, clicking on the model Canon R5 which came along with related product recommendations right under the product.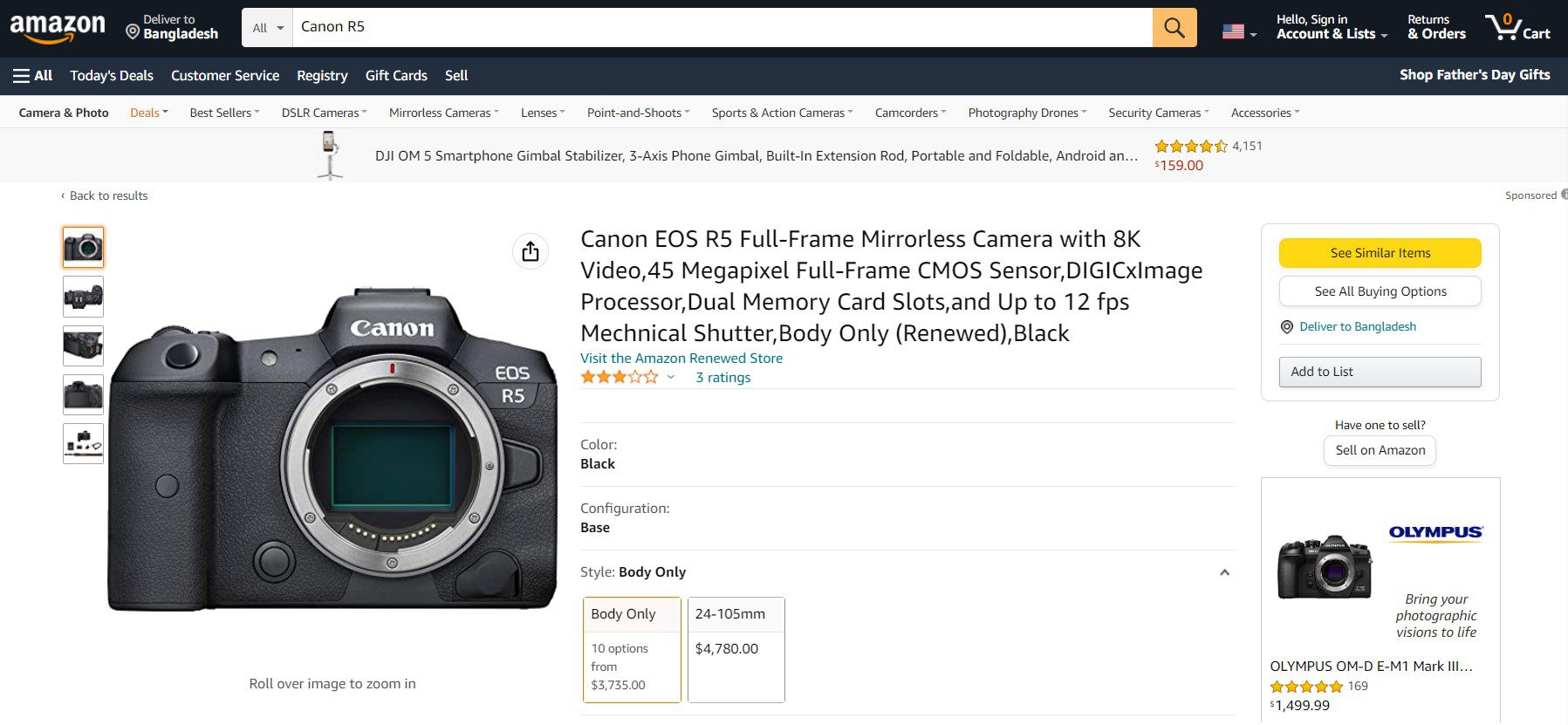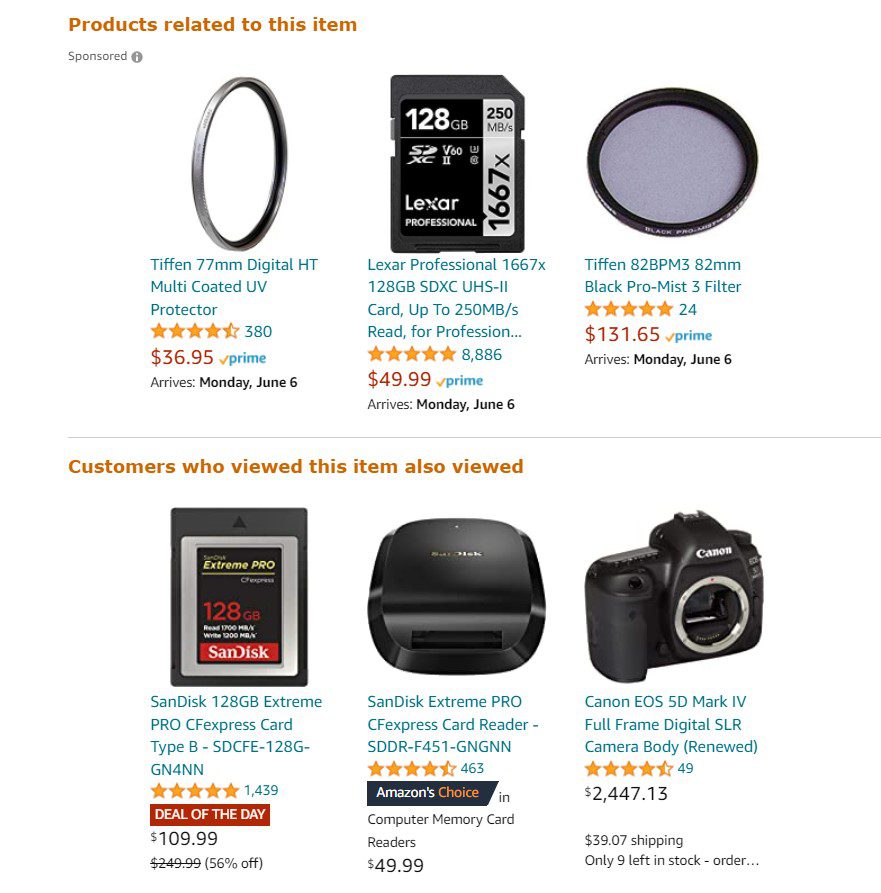 In this way, Amazon is allowing its customers to consider related and additional products that are purchased by other customers. Both recommended product rows show how effectively Amazon selected products for both upsell and cross-sell.
#4 Offering a Trial Version
Offering a trial version, especially for upselling, may not sound convincing at the beginning, but it's a common scenario in the SaaS software e-market. The system works as a trial version of the software in the eCommerce marketplace that facilitates its customers doing business to sell products online. If the sales meet the target and customers gain a certain level of transaction limit or crossed it, then purchasing the premium version of the software will be worthwhile.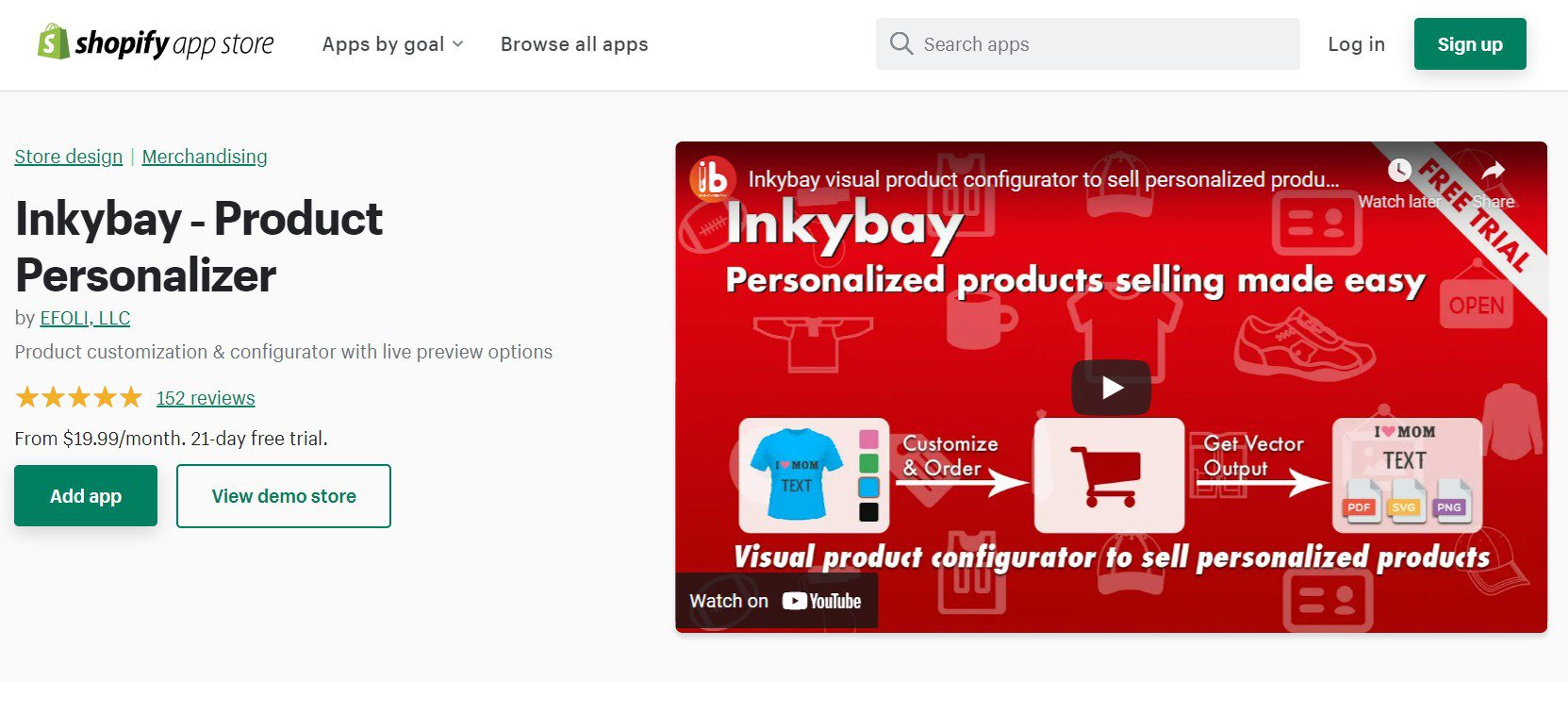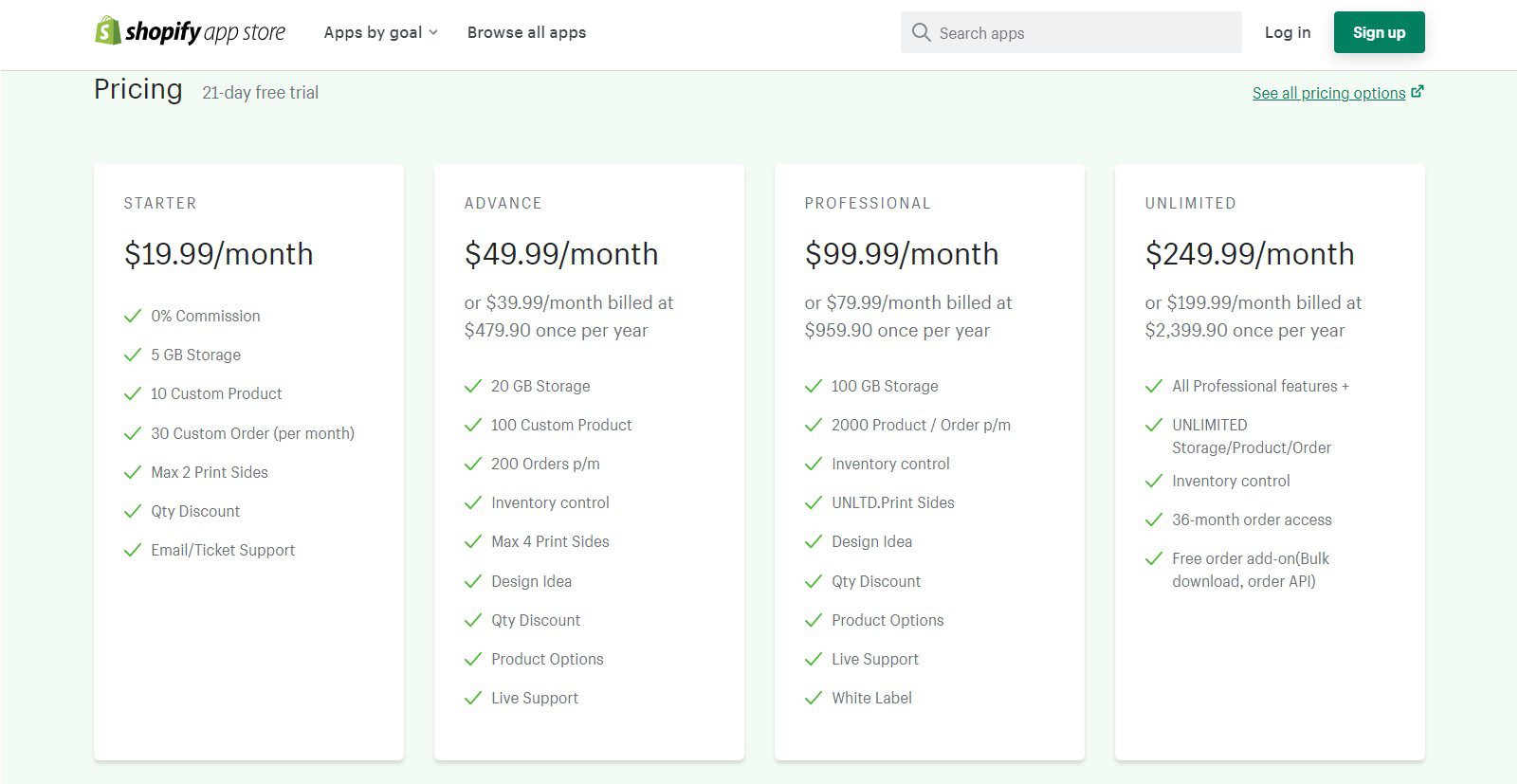 For example, a web-based customization solution Inkybay – Product Personalizer at Shopify store offers its customers a 21-day free trial along with several features for the online store and a fixed target sale. When the 21 days trial is over, and the users find how it is helpful and enables an array of self-customization options for their customers, they go for purchasing the premium version of the product.
#5 Help Your Customer to Make Life Easier
Helping the customer to make their life easier is quite a mind game, if played well, can be uplifting for upselling and cross-selling endeavors. For instance, a decorative knife holder could be the best help for storing for the customer intending to purchase a set of knives and is a thoughtful cross-selling certainly. And selling a set of cutlery or any tableware could prove a relevant upsell as well.
It's all about psychology in which as a business owner, you have to make your customer understand how purchasing the product you are offering along with the main product or a better version can make their life easier.
#6 Create Urgency
Creating urgency by limiting the product stock or purchase scope certainly increases the sales rate and profit margin, yet it isn't an upselling or cross-selling strategy directly but can be part of the bigger picture.
For a client-based business, offers like "first 10 customers purchasing this product will get this specific service" can increase the sale.
For product-based businesses, there are limited shelf-life products like food items. For instance, you have manufactured some seasonal food items. To sell the remains, an offer like " last opportunity to buy it" easily creates an urgency to buy in customers' minds. This type of exclusive offer "use it or lose it"strategy grabs customer attention quickly and is applicable for many products in upselling and cross-selling in a business.
#7 Make A Presentation of Products Using Shop Like Look Strategy
Shop-like Look is a mind-boggling cross-selling strategy mostly adopted in the fashion and lifestyle industry. Setting up a real-life scenario provides visualization of how a product will look if purchased and taken at home.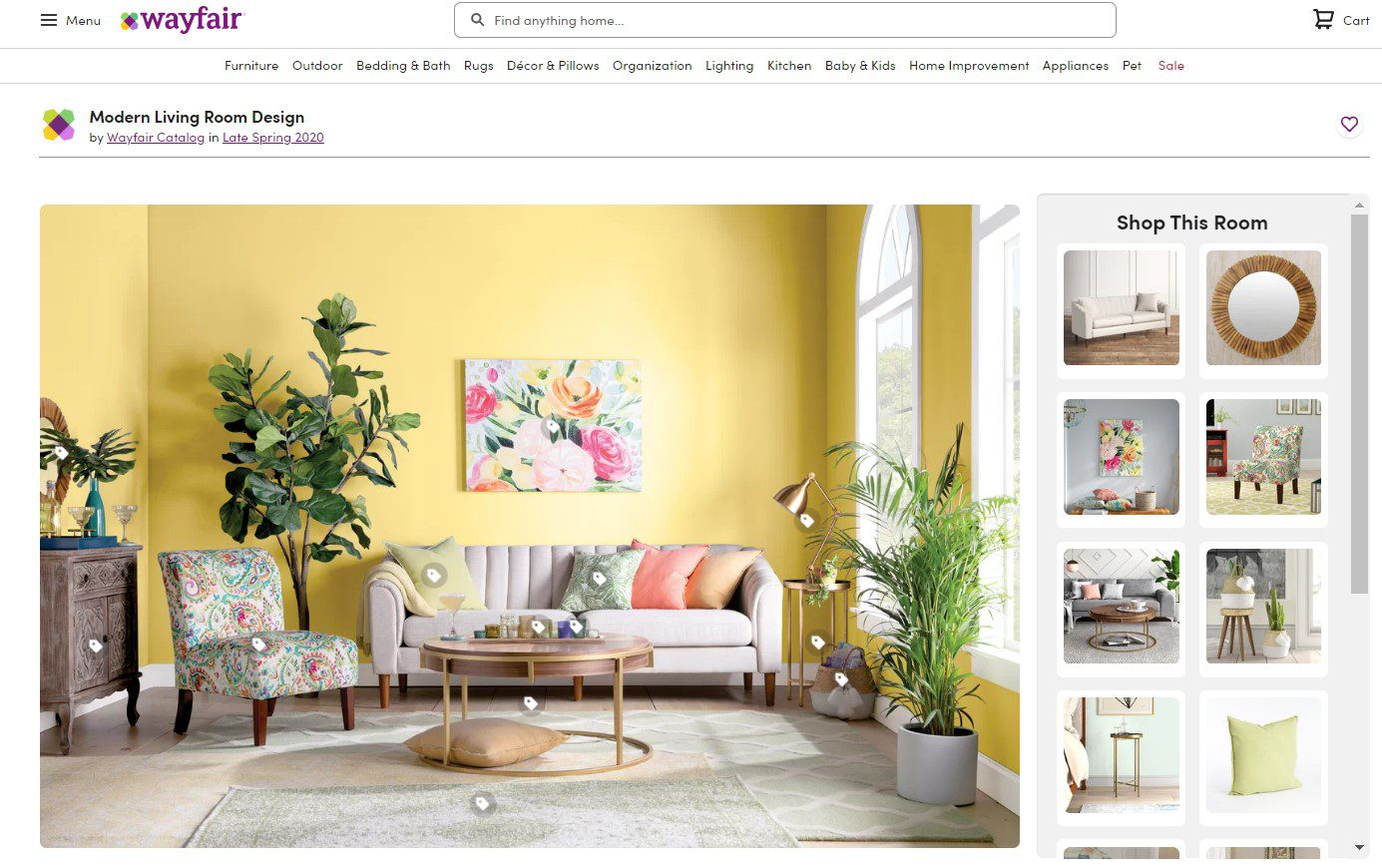 Wayfair is well-known for the presentation of its products in live showroom-style images by utilizing shop-like look techniques. If you look carefully at the products image above where Wayfair displayed several products in it. If you choose the category Chair to buy a slipper chair, you find it in the image along with other living room furniture. A customer coming to buy a slipper chair might even find the pillow cover, rug, coffee table, desk lamp, or even the cabinet convincing enough to buy along with the chair who knows.
It's not necessary to copy Wayfair, yet as an eCommerce store owner, you might try to create a shop-like look scenario for the relatable products through a high-quality image or video for your customers and make cross-sells to boost your sales and revenue.
#8 Create The Desire
Some of the products in your store have seen the highest sales and have the most reviews. Let's imagine a scenario that which a customer or prospect intends to buy a product from your store and finds a most relevant to the product along with it which is mostly bought and reviewed as well. So, simply your best-selling product will attract him/her as it creates the desire in customers' minds to own it.
How? It's common psychology in people in general.
You, me, or anyone going to buy something always desire to own the best product for ourselves.
As the products have already proven the most desirable, they will help you boost your sales with the present customers in your upselling and cross-selling.
#9 Keep Your Product Recommendations Subtle
Being realistic is the best way while intending to upsell or cross-sell. Putting too much effort into making the sales happen can easily get on the nerves and create a negative impression that you are somewhat trying to swindle your customers.
If someone is trying to buy a desk chair within the price range of $50-$100, strictly avoid pushing pitching a $1500 high-back leather desk chair. It's easily perceivable that the price difference is substantial. It's logical to offer chairs with a price range starting from $50 to a maximum of 200$, but $1500 makes you too ambitious. Keep the offers subtle otherwise, it will feel like you are trying to rob their hard-earned money.
#10 Only Highlight The Relatable Best Products You Want to Offer
Do not crowd your recommended list with the products that lack quality. It will create a negative impression about you in your customers' minds, and you will lose credibility.
Try to highlight only your best products related and complementary to the product the customer wants to buy. By choosing the best, you are narrowing down the recommendation list and saving your customer from getting lost in the crowd and confused. A good customer experience increases customer retention, and this should be the only strategy for your business in the long run.
#11 Comparison Chart
A powerful tool for upselling in eCommerce businesses is comparison charts. This comparison chart is usually popular in the electronics industry. A brand often offers multiple models, and visualizing a chart with specifications and price differences makes it easier to choose an upgraded product, sometimes adding just extra cash.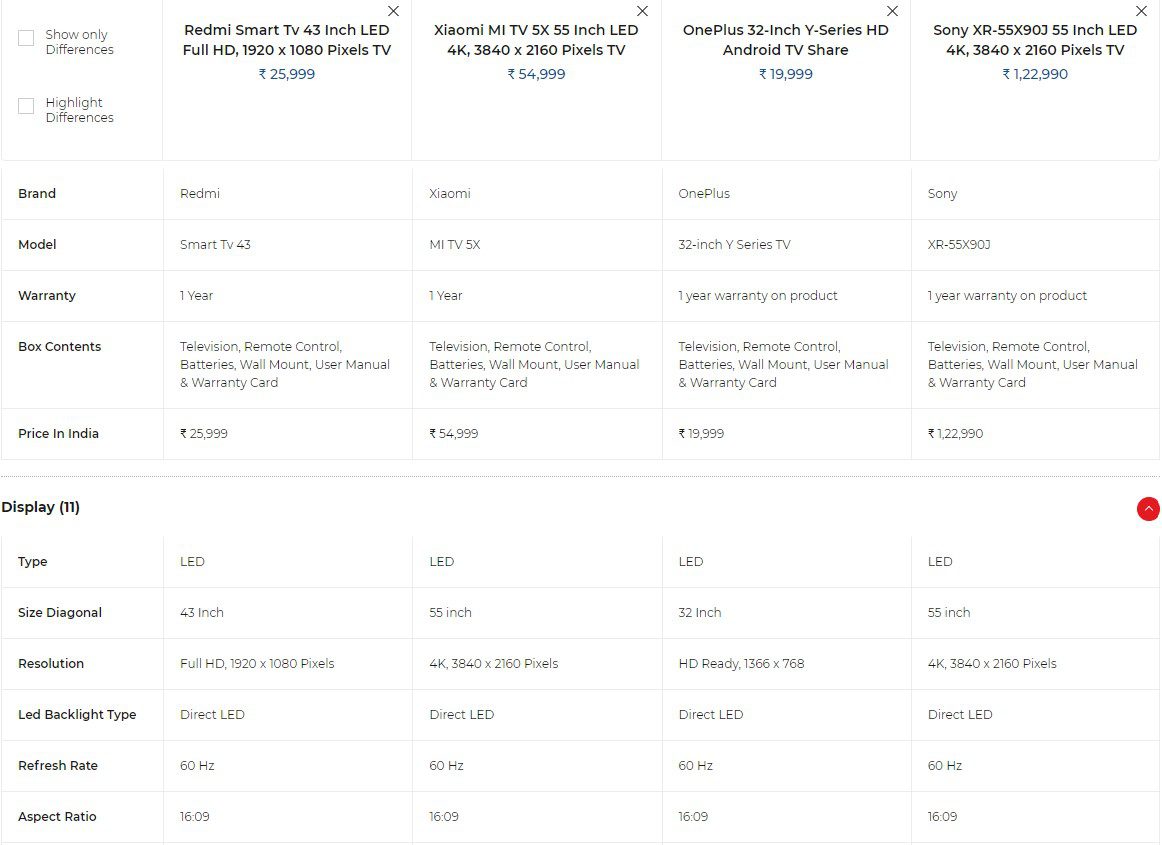 It's easily perceivable how Gadget Show has offered their customers to compare different brand TV specifications, advanced features, and prices. By studying the in-detail features, customers get to know where they are compromising their money. If shoppers think they don't want to compromise their money while buying a sophisticated product like a Smart TV, as the store owner, you are the winner.
#12 Increase The Revenue With Your Seasonal Offers
Seasonal offers could be handy to upsell and cross-sell your products. In a season like winter, when your customers buy a sweater or a blanket, you can cross-sell beanies or hand gloves, or even a pair of woolen socks very easily. These cross-selling products are the need for the winter season and by making the offer you are somewhat creating an impression that you care for your customers' well-being.
But when your business works globally, you have to be careful about your cross-selling mostly. For instance, in March, Florida is enjoying sunny days and pleasant weather, while at the same time Minneapolis is covered in snow. So keeping that in mind figuring out where, when, and what to cross-sell is very important. Florida offers quite cooler nights and mornings, yet between March to May, it's time for beachgoers in Miami as the daytime is warmer and sunny. So, along with clothes for cold evenings and mornings, it's easier to cross-sell beachwear.
#13 Knowing When To Pitch A Product
Knowing the right time to pitch a product, especially when you're trying to cross-sell is a very effective strategy. In a customer purchase process, cross-sell products take place two times –
On the product page where the customer is viewing the main product, he is considering buying. Your intended cross-selling and the certainly relevant product should be easily noticeable on the product page.
Checking out time is the time when you pitch your products once more.
Here while pitching the products works or should be said need to maintain another mind game. On the product page, display the possible maximum-priced cross-selling product with 15-20% of the main product price range. But always keep the products below pricing 5% to 10% on the checkout page. But – why?
The customer didn't choose the recommended products and may not be interested at all as showing them before checkout might not work. But relevant products with lower prices have a higher possibility of sell. It can be easily seen while buying something from online grocery stores where a simple one-dollar candy or gum is offered while checking out. It is how they cross-sell products like candy or gum with lower profit.
Things To Avoid While Pushing The Upselling and Cross-selling Products
Showering your customers with upselling and cross-selling products is entirely a wrong choice, and there's a high probability that the customer may leave without even buying the product they came for. Things you must avoid before pushing the intended products:
Make suggestions beforehand without even knowing why and for what the customer or a prospect is visiting your store.
Showering customers with upselling and cross-selling products is very unprofessional, and it creates confusion in their minds, about what to buy, or what not to. Research shows that often a customer leaves if they cannot make up their mind about which one is better to buy.
Doing business with hidden tactics under your sleeves to trap and force customers with upselling and cross-selling products might backfire. As the decision entirely remains in their hands whether to purchase a product or not no matter how much you try. For a mistake like this, you might lose a lifetime customer or a valuable prospect.
Before applying upselling and cross-selling tactics, you should always keep in mind that whatever strategies you make, the sole purpose is to help your customers to make better, easier, and faster decisions.
How Ecommerce Industry Giants Apply Upsell & Cross-sell
Ecommerce industry giants like Amazon, Verizon, Best Buy, eBay, Alibaba, Walmart, Rakuten, and many others implement several techniques to upsell and cross-sell in their business stores.
Package deal or bundling
Premium or exclusive offer
Product Recommendations
Attractive and mind-boggling discounts
Warranties
Mind game
These strategies are implemented in many ways –
Email marketing.
In the checkout process, when customers' intended purchases are already in the shopping cart.
Through direct contact with the customer like phone calls or SMS.
Displaying best-selling products with the searched product as a recommendation.
Showcasing the products related to the main product.
Using mind games like the target is to make the customers believe that the recommended products are to make their life better and easier. Even the "buy one get one" offer also helps increase average order value (AOV).
Wrapping It Up
The sole purpose of a business whether it's an eCommerce business or brick-and-mortar is to heighten the sales and generate profits as much as possible. It's like a frenzy and hard to stop from going reckless sometimes. But valuing your customers, knowing their needs intimately, and respecting their likes and dislikes is the key to successful upselling and cross-selling. You must be careful when you are recommending an array of products to your customers so that the trial is worthwhile and doesn't backfire. Keep it simple and subtle, and patience will lead you to ultimate success.
Major companies like Amazon, Samsung, and Apple have been implementing both upsell and cross-sell sales strategies for decades now and succeeded. What are you waiting for then? It's time for you to take full advantage of both techniques, apply them to your eCommerce business, and thrive.