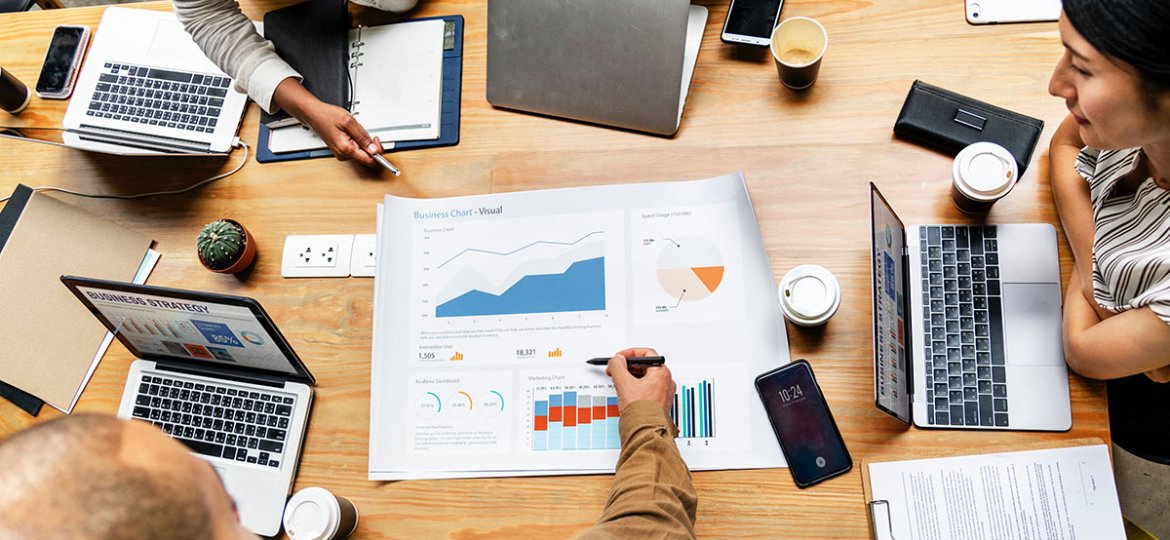 Your product catalog is growing in size, so is your traffic. You have modified your product experience and you're attracting more website visitors by the day. Now you're faced with the challenge of working with the various types of website visitors that come in as a result of big inventories.  If you cater to both middle-aged women in the US, and teenagers in Japan, do you show them both a similar homepage? Of course not. How do you now provide a unique experience to all these different users for their shopping intent?
The solution lies in your question. You KNOW that you cater to different types of users. By monitoring and learning more about who they are, you can categorize the experience for users based on their broad interests. From this segmentation of traffic, you can develop various e-commerce experiences to suit various expectations and intents. This is called visitor or audience segmentation, and it is one of the first steps towards true user experience personalization. In this article, we're going to discuss the exact parameters using which you can segment your website visitors and design your website for multiple audiences.
How To Segment Website Visitors
Most of the CRO tools that allow for user segmentation (recommendations at the end of this article) offer various options to segment your traffic. We will go over each of these segments while discussing examples of the best websites which have implemented them.
1. Geolocation/ IP Address
Monitoring the users through their IP address to identify their country, state, region, locality etc. The most common form of segmentation used, you can use the data collected here in various ways:
Showing relevant languages, currencies and shipping details based on where the user is.
Displaying products based on current weather of shoppers location. Take the example of the Burton store, which displays the relevant product and creative referencing to the users' local weather.
Local Festivals/Events can also be used as a segmentation opportunity to show relevant products. For example, suppose a large portion of your target audience is of young go-getters that enjoy music festivals. If there's a festival taking place in a city over the weekend, you can tweak your website for local visitors to showcase your support and sell products relevant to the event.
2. Demographics
Various types of demographic information can be helpful in customizing experiences for user cohorts. Here are a few demographics and examples:
Age: If there are major age differences in the audiences you cater to, the expectations will be different for each group, and they can be segmented into ranges of age.
Gender: Gender is a major segmentation point, especially in the fashion industry. Most fashion retailers use both age and gender to segment their website traffic.
Job Title/ Income: can be used to get an idea of the type of products and experienced users will be looking for. For example, stores like Amazon have charged users differently based on the estimation of their incomes and geographical location.
These demographics, combined with research of shopping habits can be used to develop a method of segmenting in itself. Here's an example of segmentation according to income, age, and shopping habits: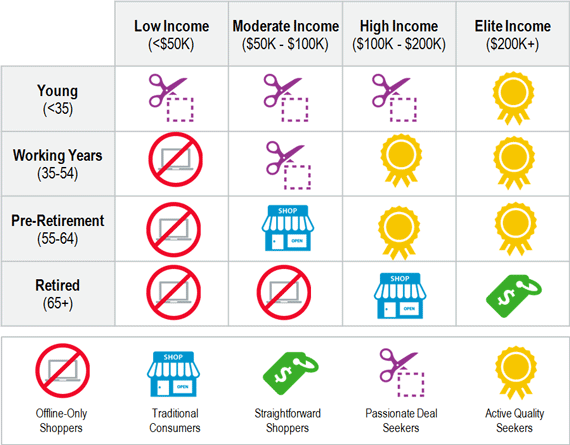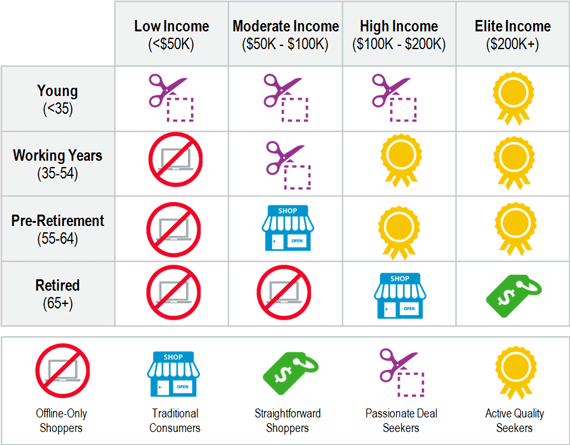 3. Segmentation Based on Technology Used
The technology that visitors are using to access your business can tell a lot about them and the type of experiences they might be expecting. Here is how it breaks down:
Mobile vs PC: Mobile sessions typically have less average order value as compared to those on desktop computers, and experiences can be tweaked accordingly. For example, shoppers at Home Depot are 'price steered', meaning they are shown fewer and lower-priced products when on mobile.
Operating System Used: Based on the OS users are on, items can be shown and priced accordingly. Typically, stores like Home Depot, Sears, JCPenney, Macy's, Cheaptickets, Orbitz, Priceline, Expedia, and Travelocity charge higher prices to online shoppers on Mac computers as compared to Windows or Android users.
Browser:  An additional layer of segmentation security, sometimes browsers have different display and design guidelines, which should be taken care of if you have an audience distributed across various browsers.
4. Traffic Source Segmentation
The internet is a large place and how people find you online can give you insight into their shopping intent and interests. Monitoring traffic sources is like tracing the steps users took to reach your website, the path they followed and the steps they took along the way. Sources give you insight into the shopping intent of the users and can help with the following type of segmentation:
Paid Traffic: Based on the source/ad the user clicked, the landing page and subsequent experience should be tailored accordingly.
Non-Paid Traffic: When you know the type of content someone is interested in seeing, keep showing them more of the similar to keep them coming back. Traffic from organic sources like search, social media, and content campaigns should also be monitored and segmented to present tailored content accordingly. Here's an example of FamousOutfits customizing offers for traffic coming from Reddit.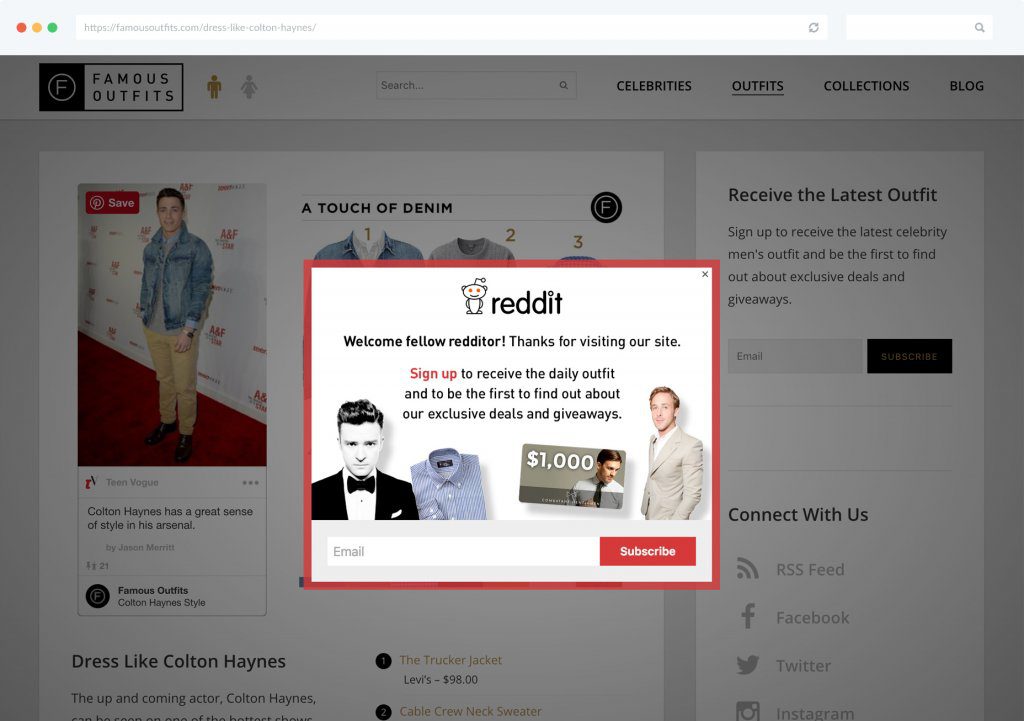 UTM tags are used to identify the referral sources, campaigns and content types, and they can provide an accurate roadmap to your landing pages. Further, testing out variations of landing pages using A/B testing will help identify which variations of the landing pages work best for which segment.
5. Behavioral Attitudes
Apart from identifying the details about where they're coming from, the way users behave on your website can also help segment them accordingly. There are a few broad aspects that can be used here.
New vs Returning Customers: Make a clear distinction between new and returning visitors. Returning visitors can further be segmented as customers and non-buyers.  For returning customers, you can also show them content like 'previously viewed items' and more. For new visitors and returning customers, the experience can be personalized by showing them offer coupons, discounts etc, to encourage further engagement. Here's an example of a modal popup TrueReligion used for first-time visitors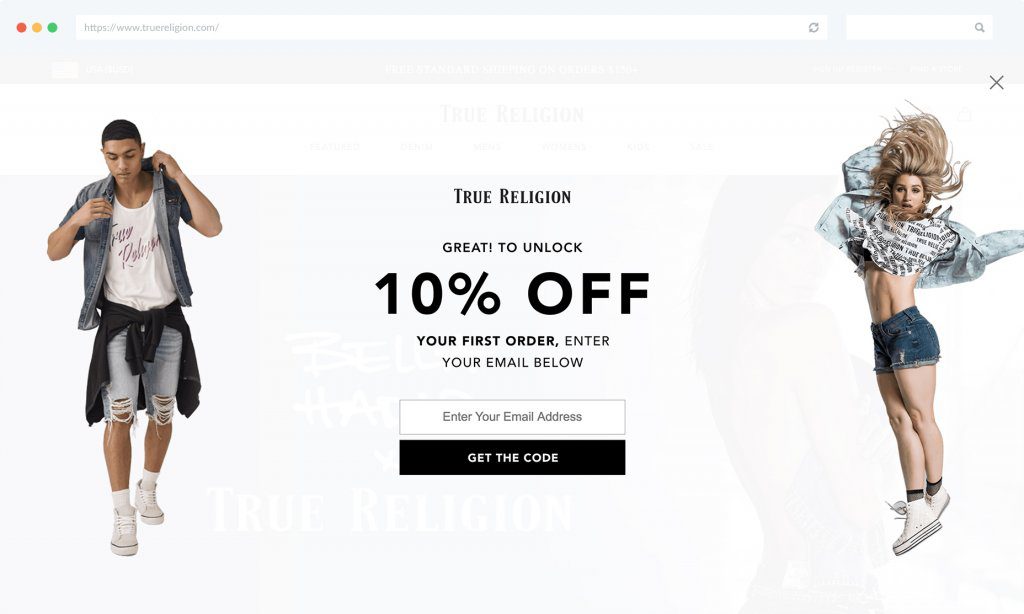 Customizing the experience as per behavioral attitudes takes a larger part when you move to implement personalization at an individual level for each user.
Segmentation vs Personalization: It's not a competition
When talking about personalization of user experience and how segmentation, they are often assumed they are rivaling concepts, which is a misconception. Think of Segmentation as a broader, initial stage where you are trying to segregate and guide users towards the right type of experience from your observations (much like the men and women check-in lines at Airports). True personalization is the further optimization from this stage to the right kind of 1:1 experience for each and every user.
Here is a list of real-time product personalization software and platforms for segmentation:
•    Omniconvert.
•    Monetate.
•    Nosto.
•    Qubit.
•    TrackIf.
•    Bunting.
•    Barilliance.
•    BrainSINS.
Now that you have an idea of various types of audience segments, which ones will you be using for visitor segmentation on your website? Let us know in the comments!