Inkybay offers different features for different packages so that you can choose what is best for your business needs. Some features like storage, customizable product, and the number of orders using Inkybay features comes based on different plans. You can always check what features are available in your package, how much storage you have used so far, the number of products you customized, and the number of orders you have received using the Inkybay designer tool or product option.
To know your package's features, limits, and how much you have used –

From the Inkybay dashboard, hover your mouse over Settings and click My package.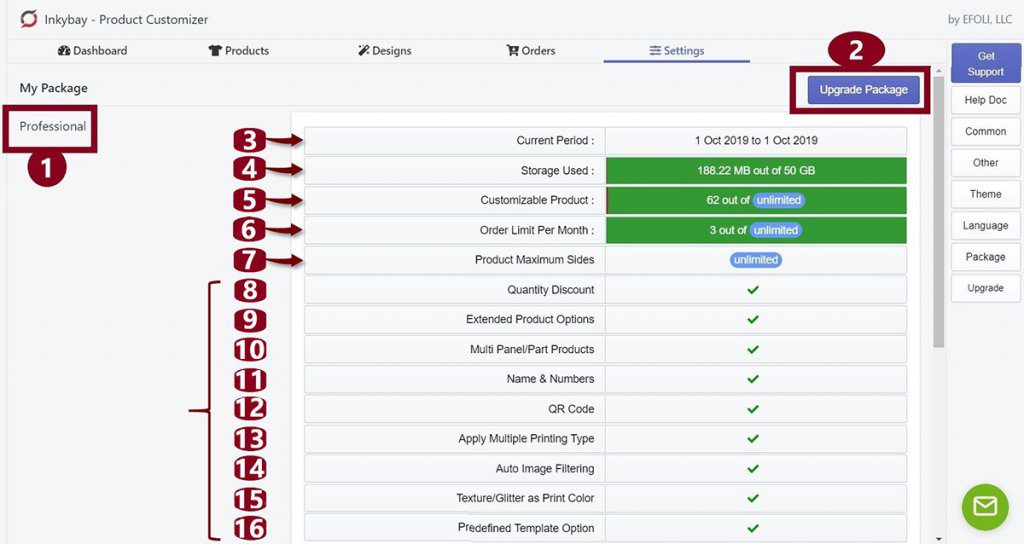 Details with numbers shown on the image:
Name of the package/plan you are using
You can choose a package from the package list to upgrade your package.
The time period of your package.
It shows the total storage that your package offers, and the storage you used.
The number of the product you can use and the number of products that you already have used.
The number of orders you received using Inkybay customizer and product options.
The number of sides you can use for a product.
(8-15) These are the feature list that Inkybay provides. A tick mark defines the features that are available in your package. And cross sign means you have to upgrade your package to get that feature.