Managing product sizes for custom products in Inkybay.
You can manage product sizes in two way:
While creating custom products, scroll down to Product Sizes.
Or, Navigate to "Products >> Products Sizes"
Scroll and find Product Sizes. Here you can create and choose product size set for each product. You will be able to apply the settings for similar types of products later while configuring other products.

Size Category: Here you will find three types of sizes to choose

Open Sizes: Open size set
Adult Sizes: Size set for adult
Youth Sizes: Size set for youth

Available Size Set: You can find and select available size sets here by clicking and selecting from the drop-down menu
Display Size:  This will show the available sizes for the selected set.
Edit Set / New Size Set: Click on Edit Set any available size set, and click on New Size Set to create a size set from scratch.
Let's show you how to create a size set from scratch.
Select a size category and click on + New Size Set, this will appear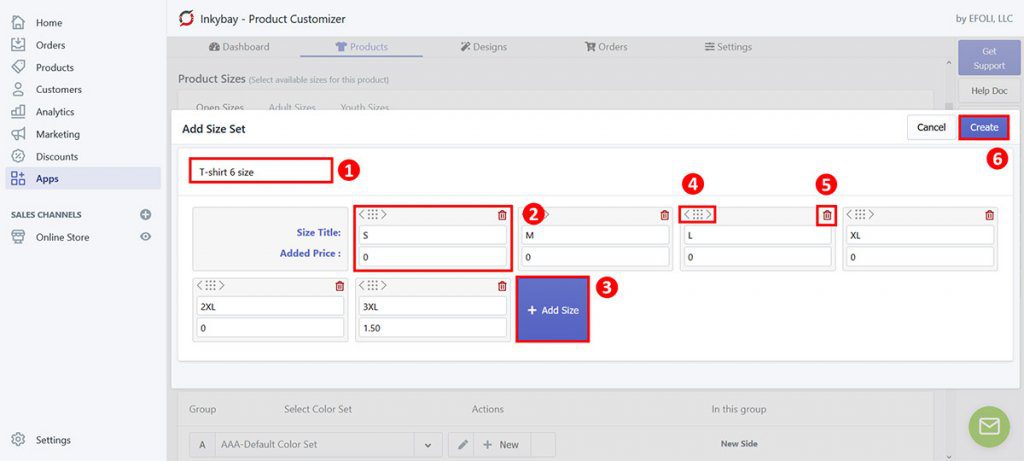 Size Set Name: Provide a Size Set name (here, we chose T-shirt 6 size as we want to offer 6 t-shirt sizes for this product)
On Size Title, provide the size label. For example, put small, medium or large. Now, on Added Price, you can set added price for that particular size (e.g. here, we have charged extra 1.50 for 3XL size)
+ Add Size: Click here to create an additional size (e.g. you can extend size range like XL, 2XL, 3XL and so on)
Reorder: Click and drag this dotted icon to organize sizes as you wish.
Delete: Delete any size by clicking on the red trash icon
Create: Click here to create and save the new size set.
Now, the newly created size set will be automatically selected. Note that, for Edit Set, the procedure of editing is the same as Adding a new size set. Here is an Image of Edit Size Set for your understanding.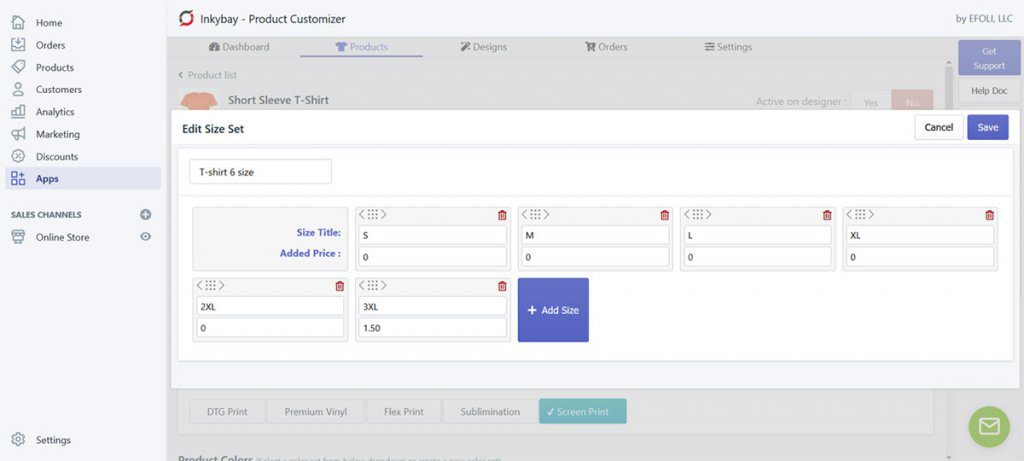 Here is a video link for better clarification.

Still, if you face any further issues or need help, feel free to contact us. Our support team will be happy to help you.
You can always reach us via
Support ticket from Inkybay app
Live Chat in Inkybay app
Direct email to support@productsdesigner.com
So, Good Luck! And happy selling with Inkybay.